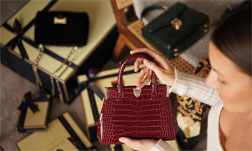 ASPINAL OF LONDON LEATHER & TRAVEL
See our selection of Handbags, Purses, Wallets & more.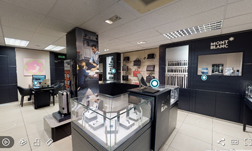 VIRTUAL TOUR
Take a 360° virtual tour around our Montblanc Boutique & Store.
Aspinal of London
Aspinal of London is a quintessential English luxury lifestyle brand that specialises in leather accessories that are designed to be loved for a lifetime. Despite having only formed in 2001, Aspinal of London is very well-established in their industry and continue to receive ever-increasing critical acclaim within the fashion world for their classic yet contemporary design.
Whilst the brand started out focused entirely on providing luxury leather travel accessories, it has now turned its attention towards providing everyday leather essentials for both men and women.
Aspinal of London pride themselves on keeping customer feedback in mind when designing new products, and this means that their bags, purses and luxury leather accessories are practical as well as stylish. Many of their bags, for example, come with detachable and adjustable straps in order to ensure that the person wearing them can do so comfortably, and to suit their preference.
The materials used to make Aspinal's products are carefully sourced from around the world, by talented designers and Iain Burton - the owner of the company - in order to obtain the highest possible quality.
Another interesting aspect of Aspinal as a brand is their desire that real people can afford to buy their products. As you will see from the items listed on our website, their products span across a wide price range, ensuring that you can try a taste of Aspinal's quality - however much you are looking to spend.
Aspinal of London Personalisation Service
Here at Wheelers Luxury Gifts, we can personalise most of the Aspinal of London products listed on our website. Our in-house engraver can emboss/engrave leather goods, jewellery and many more amazing products. Use our engraving service to create the perfect luxury gift.
Aspinal of London is the perfect brand if you're looking for high-quality, luxury gifts and here at Wheelers Luxury Gifts, we like to help you make them that little bit more special. On top of being able to engrave Aspinal of London products, we can also engrave silver and gold plaques to place on the presentation boxes. We also offer a gift wrapping service to finish off your purchase. For £4, we can gift wrap any Aspinal of London item in either lavender or silver paper. 
Aspinal of London Corporate Gifting
Aspinal of London products is an excellent choice for corporate gifts. With our vast array of products, we can provide large quantities for corporate clients. With our in-house designer and engraving team, we can engrave bespoke text and even your company logo onto your chosen product where possible.
Wheelers Luxury Gifts Shop
Mr Wheeler is dedicated to ordering a wide and high-quality range of Aspinal of London products, but if by chance you happen to be looking for a particular Aspinal of London item that we do not stock, please do not hesitate to get in contact and we will try our best to assist you. We pride ourselves on offering good, old-fashioned personal service and are always happy to help.
We are an Official Aspinal of London Stockist in England. Our store is situated in Loughborough, Leicestershire, and features a huge array of leather, jewellery, accessories and more. We would love for you to come and visit, we are open 6 days a week, Monday to Friday 9 - 5:30 pm and Saturday 9:30 - 5 pm. You may call 01509 266320 or contact us by email.