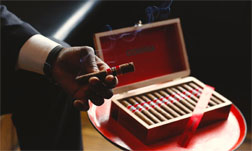 COHIBA CIGARS
View our selection of Cigars, Accessories and more.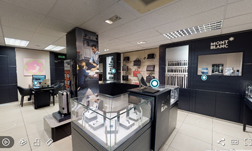 VIRTUAL TOUR
Take a 360° virtual tour around our Montblanc Boutique & Store.
Cohiba
Cohiba cigars are the flagship brand of Habanos and were created in 1966 for president Fidel Castro; back then this was top secret but now these cigars are world-famous. They were originally only found outside of Cuba as gifts for heads of state and visiting diplomats. Since 1982 'Cohiba' has only been available in limited quantities to the open market making them a rare cigar to find.
The name Cohiba comes from an ancient Taino Indian word for bunches of tobacco leaves. Cohiba cigars are known as the 'selection of the selection' meaning they come from the five finest plantations in the San Juan y Martinez and San Luis districts of the Vuelta Abajo zone. There are up to three Cohiba filling leaves which are unique to Habanos, these are the seco, ligero and the rare medio tiempo which undergoes an extra fermentation in the barrels which then adds an extra smoothness to the blend.
Cohiba has four different Lineas which means lines. firstly there is the Linea Clasica which has six sizes and were introduced between 1966 and 1989. The Linea 1492 which comes in five different sizes; these were launched in 1992 to commemorate the 500th Anniversary of Columbus's arrival into Cuba. The iconic Siglo VI was added in 2002. The Linea Maduro 5 which consists of three different sizes; these are each wrapped in dark maduro leaves which have specially aged for five years; this was launch in 2007. The most recent linea was part of the Linea Clasica range which is called the Cohiba Piramides Extra launched in 2012. Last but not least the Linea Behike which three sizes made their debut in 2010 and were made the most exclusive line, extremely hard to get hold of and very rare due to its medio tiempo leaf. This leaf can only be found amongst very few of the top two leaves of a sun-grown tobacco plant; this leaf brings an exceptional richness to the taste of the cigars.
Through persistence and constant innovation, Cohiba has managed to hold its position as the leading edge of the cigar world.
Mr Wheeler is dedicated to ordering a wide and high-quality range of Cohiba products, but if by chance you happen to be looking for a particular Cohiba item that we do not stock, please do not hesitate to get in contact and we will try our best to assist you. We pride ourselves on offering good, old-fashioned personal service and are always happy to help.
Licensing Act 2003 - It is an offence to purchase or attempt to purchase Tobacco if you are under the age of 18.
Cohiba & Wheelers Luxury Gifts
Our selection of Havana cigars, gift packs and boxes all come with an individual EMS stamp. 'EMS' stands for English Market Selection, and is a term that has been used in Cuba for over a century to identify the quality of cigars designated for the British market. The stamp has been awarded to all boxes and packs of Havanas that pass an additional UK inspection which is conducted once the cigars have reached their duty paid humidified warehouse. It serves as the traditional guarantee of quality and authenticity for Havanas sold in the UK. In 1997 the colour of the stamps started to change and have continued to do so annually. The EMS stamp guarantees that the cigars have been imported directly from Habanos SA in Cuba by its appointed UK distributor and that the boxes have been shipped and stored by experts. The cigars have also passed an additional UK quality check (every box is opened and each cigar individually inspected) and all UK Duties have been paid and correct UK health warnings applied.
We are an official Cohiba stockist in England. Visit our Wheelers Luxury Gifts store in Loughborough, Leicestershire, that features a huge array of writing instruments, jewellery and leather. We would love for you to come and see us, we are open 6 days a week, Monday to Friday 9 am - 5:30 pm and Saturday 9:30 am - 5 pm. You may call 01509 266320 or contact us by email - [email protected]