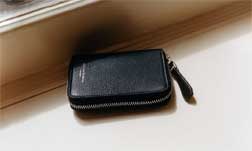 dunhill Leather & Travel
View our selection of Messenger Bags, Wallets & more.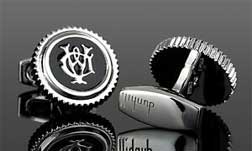 dunhill Jewellery
View our selection of Cufflinks & more.
dunhill London - Style & Luxury for Men
Alfred Dunhill - Craftsman, Entrepreneur and Futurist
The Craftsman
The young Alfred Dunhill started his working life as an apprentice craftsman in his father's equestrian saddlery and harness making business. In 1893, on the death of his father, the 21 year old Alfred inherited the company. From this moment began the extraordinary business life of one of the world's most inspirational craftsmen/entrepreneurs.
The Entrepreneur
One of Alfred's first challenges was to move the business away from the declining sector of saddlery, towards providing accessories for the exciting, brand new era of the motor car. In the early years, Alfred was easily distracted towards a myriad of motor-related industries, but before long, he learned the value of focus. He dedicated himself to developing the world's most stylish and practical motor accessories - driving apparel and protective clothing; in his words, 'everything but the motor'.
The Futurist
Before long, Alfred's pioneering spirit had seen him develop a global business, supplying customers directly, as well as prestigious manufacturers. Among his clients were names such as Rolls Royce.

Alfred was a futurist. He had a unique ability to anticipate trends. He devoted a lifetime to understanding the market place, developing a global presence through a commitment to creativity and service. Alfred ensured success for the business by carefully crafting products to represent the very best they could be. Simultaneously, he was insistent that the service side of the business matched the quality of the products.

A Craftsman, an Entrepreneur and a Futurist - a unique and brilliant combination.
dunhill at Wheelers
Jewellery, Travel Bags & Pens
The name dunhill is synonymous with luxury and style in the world of accessories for men. Based in London, dunhill is a premier British luxury goods brand. Among their portfolio are accessories including leather goods and jewellery, as well as exquisite writing instruments.
Here at Wheelers we are proud of our long association with this fine brand. We carry a wide range from the dunhill portfolio - from writing instruments to leather travel bags and wallets to clothing.
Dress Shirts, Polo Shirts, Ties & Belts
Our dunhill clothing collection features a stylish array of ties and dress shirts for your formal wardrobe alongside polo shirts and jumpers for casual and golf wear.
Accessories
The dunhill Accessories Collection includes beautifully crafted Leather Belts, Cufflinks, Phone Cases, Tie Bars, Lighters and more. We provide the high quality and sophisticated finishing touches you need for your wardrobe.
Pens
Our dunhill collection doesn't stop there. We also stock a wonderful range of dunhill pens including Ballpoint, Rollerball and Fountain Pens as well as a wide choice of leather bags to prepare you for work.
Making Your dunhill Purchase Personal - for Business or as a Gift
At Wheelers, we have an extensive personalisation service. We'll make your chosen gifts really special with our engraving or leather embossing service. We'll even engrave a metal plaque to be applied to the presentation box of your gift.
Just to make things really special, we'll add a final flourish with our personal gift wrapping service.
And remember, UK Delivery is always free.
Celebrate Corporate Success with dunhill
There is no better way to celebrate the success of an employee or of your business as a whole than with a dunhill gift. Maybe one of your team has just earned promotion. Or perhaps you've won a new contract or a tough target has been exceeded. Either way, a dunhill gift engraved with your company logo or personal message is the perfect way to say 'Well done!'.