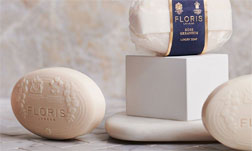 FLORIS ACCESSORIES
See our Selection of Toiletries, Fragrances & more.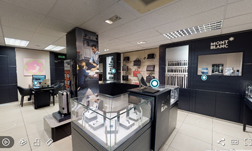 VIRTUAL TOUR
Take a 360° virtual tour around our Montblanc Boutique & Store.
Floris London
'Attention to detail is key. All our products use the finest quality fragrance oils and ingredients'.
Founded in 1730, Juan Famenias Floris and his wife Elizabeth embarked on what would be what we know as Floris London today. For over 300 years Floris London has continued to blend individual scents for distinguished customers and with each new fragrance, the original formula was handwritten in this very book. Each individual scent has been noted down and passed through generations to build up on Floris London's fragrances. Floris London has an in-house perfumery who continue creating the unique fragrances. 89 Jermyn Street is the original Floris London shop that is still stood there today.
Floris London don't just sell fragrances they've now broadende their business and sell home accessories, soaps, hand creams, shaving products, men's accessories. You name it they've made it. 
Floris London at Wheelers Luxury Gifts
Here at Wheelers Luxury Gifts, we stock a number of Floris London products. From fragrances to toiletries to home accessories, there's definitely a gift here for yourself or a loved one. All Floris London products are presented inside a special Floris London pop up box to securley hold your new product.
Floris London Personalisation Service
Unfortunately, we cannot personalise any of the Floris London products we stock as we cannot be held liable if something coes wrong. We can however offer your our £4 gift wrapping service. Complete your purchase by choosing either our lavender or silver wrapping paper. All items qualify for free UK delivery and items £100 or over qualify for free UK next day delivery. Please contact us if you have any questions.  
Wheelers Luxury Gifts Shop
Mr Wheeler is dedicated to ordering a wide and high-quality range of Floris London products, but if by chance you happen to be looking for a particular Floris London item that we do not stock, please do not hesitate to get in contact and we will try our best to assist you. We pride ourselves on offering good, old-fashioned personal service and are always happy to help.
We are an official Floris London stockist in England. Visit our Wheelers Luxury Gifts store in Loughborough, Leicestershire, that features a huge array of writing instruments, jewellery and leather. We would love for you to come and see us, we are open 6 days a week, Monday to Friday 9 - 5:30 pm and Saturday 9:30 - 5 pm. You may call 01509 266320 or contact us by email - [email protected]