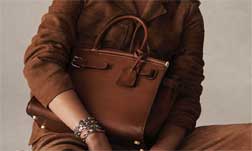 Ralph Lauren LEATHER & TRAVEL
View our selection of Belts, Wallets, & more.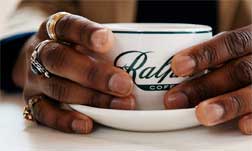 Ralph Lauren Jewellery
View our selection of Cufflinks and more.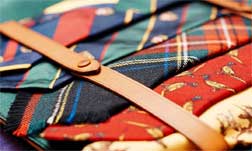 Ralph Lauren Clothing
View our selection of Scarves, Gloves, Caps and more.
Ralph Lauren 
"Back when all this started, I felt sure that there were no boundaries. I'm even more sure of that today."
The Story of a Fashion Legend
Ralph Rueben Lifshitz was born in The Bronx, New York City in 1939. As a teenager, he changed his surname to Lauren. He studied business science and served time in the army before breaking into fashion.
With no formal design training, he founded the Ralph Lauren Empire in 1967. After opening his first ever tie shop, he then moved into menswear. In 1971, he introduced his Ralph Lauren womenswear label.
The appeal of Ralph Lauren designer collections lies in their chic, 'preppy' look. This now extends into Sportswear, Casual Wear and Home Furnishings. "We don't only sell clothes," says Ralph. "We are selling a dream and a vision."
In 2010, he was made Chevalier de la Legion d'Honneur by French President Nicolas Sarkozy.
Four years later in 2014, he collaborated with the Royal Marsden NHS Foundation Trust to help fund a new, state-of-the-art breast cancer research facility.
What began 40 years ago with a collection of ties has grown into an entire world, redefining the true American style. Ralph Lauren has long been known for the quality of its products and the elegance of its design. Creating worlds of style, imagination and innovation, Ralph Lauren invites its customers to take part in its dream.
With their unique style of marketing, they were pioneers of lifestyle advertising. With their store design, they took this customer participation to a new level, as an exciting, rich interactive destination. When you're transported into the world of Ralph Lauren, you learn about design, style and culture.
Ralph Lauren at Wheelers Luxury Gifts
At Wheelers, we have a most extensive collection of Ralph Lauren clothing, featuring boxer shorts, socks and sleepwear. Our range of accessories comprises belts, cufflinks, scarves, caps, wallets and keyrings. Be it for casual or formal occasions, there's no finer way to finish off your outfit to perfection. We also stock a range of Ralph Lauren bags, both leather and canvas bags, as well as a smart range of wash bags.
Ralph Lauren Personalisation Service
At Wheelers Luxury Gifts, we have an extensive personalisation service. We'll make your chosen gifts really special with our engraving or leather embossing service. We'll even engrave a metal plaque to be applied to the presentation box of your Ralph Lauren gift. Complete your Ralph Lauren purchase by adding on our £4 gift wrapping service. Remember, we offer free UK delivery on all items and free UK next day delivery on all items over £100.  
There is no better way to celebrate the success of an employee or of your business as a whole than with a Ralph Lauren gift. Maybe one of your team has just earned a promotion. Or perhaps you've won a new contract or a tough target has been exceeded. Either way, a Ralph Lauren gift engraved with your company logo or personal message is the perfect way to say 'Well done!'
Wheelers Luxury Gifts Shop
Mr Wheeler is dedicated to ordering a wide and high-quality range of Ralph Lauren products, but if by chance you happen to be looking for a particular Ralph Lauren item that we do not stock, please do not hesitate to get in contact and we will try our best to assist you. We pride ourselves on offering good, old-fashioned personal service and are always happy to help.
We are an official Ralph Lauren stockist in England. Our store sits in Loughborough, Leicestershire, and features a huge array of writing instruments, jewellery and leather. We would love for you to come and visit, we are open 6 days a week, Monday to Friday 9 - 5:30 pm and Saturday 9:30 - 5 pm. You may call 01509 266320 or contact us by email [email protected]
Wheelers Luxury Gifts is an authorised Ralph Lauren retailer. Visit Ralph Lauren's Official Website.