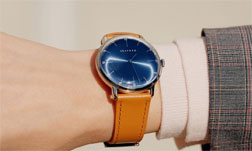 Sekford Watches
See our selection of Watches.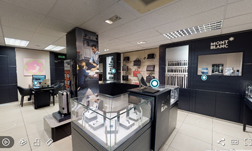 VIRTUAL TOUR
Take a 360° virtual tour around our Montblanc Boutique & Store.
Sekford
Sekford is an English brand, providing hand-assembled contemporary watches. These select few watches combine both modernist principles and classic craftsmanship creating slimline men's watches that you can depend on. The leather is sourced from one of the oldest tanneries in Britain, Derbyshire ensuring quality and long-lasting.
The company originated when its founders were unable to find the sort of watch they themselves wanted to wear; a luxury, midcentury-style dress watch for everyday use, with a price equivalent to a great pair of shoes, bag or jacket. This is when the Type 1A range was born. With perfect curves and stunning gold and stainless steel finishes.
The Sekford fox logo engraved onto the back of each watch with intricate detail represents the brand and each watch is individual to the user with its unique number that proves its authenticity.
Sekford & Wheelers Luxury Gifts
Here at Wheelers Luxury Gifts, we have a small collection of Sekford watches.
Mr Wheeler is dedicated to ordering a select few, high-quality range of Sekford products, but if by chance you happen to be looking for a particular Sekford item that we do not stock, please do not hesitate to get in contact and we will try our best to assist you. We pride ourselves on offering good, old-fashioned personal service and are always happy to help.
Sekford Personalisation Services
Here at Wheelers Luxury Gifts, we can personalise Sekford products listed on our website. Our in-house engraver can emboss leather goods and engrave metal surfaces, in order to help you create the perfect, luxury gift.
Sekford is the perfect brand if you're looking for high-quality, luxury gifts for men and here at Wheelers Luxury Gifts, we like to help you make them that little bit more special. On top of being able to engrave the back of Sekford watches, we can also engrave a silver or gold plaque to place on the top of the gift boxes. We also offer a gift wrapping service. For £4, we can gift wrap any Sekford item in either lavender or silver.
We offer free UK delivery on all Sekford products and free UK next day delivery on all Sekford products over £100.
We are an Official Sekford Stockist in England. Wheelers Luxury Gifts store sits in Loughborough, Leicestershire, and features a huge array of writing instruments, jewellery and leather. We would love for you to come and visit, we are open 6 days a week, Monday to Friday 9 - 5:30 pm and Saturday 9:30 - 5 pm. You may call 01509 266320 or contact us by filling out our contact form.