"Did you know that your phone screen is 7 times dirtier than a toilet seat?" (Credit: Initial Washroom Hygiene)
Lexon is known for its innovative, forward-thinking products. In a time when hygiene is more important than ever, Lexon has taken the initiative to create the OBLIO wireless charger.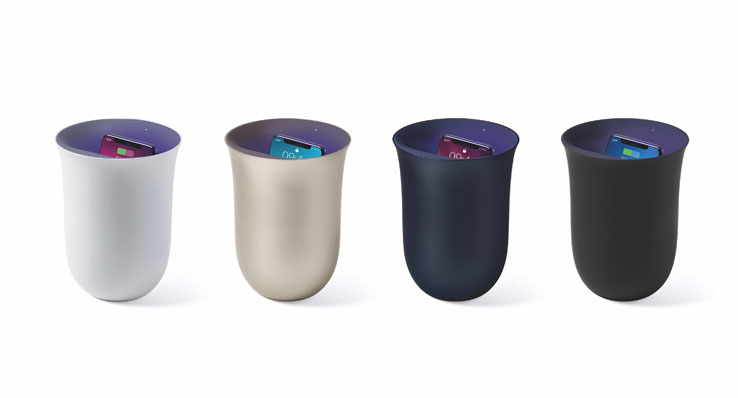 Designed by Manuela Simonelli & Andrea Quaglio, their common work is really fed by stories, a creative look at the surrounding world, mutations they would wish to induce: therefore they create familiar-looking objects contaminated by the unexpected and the poetical.
The OBLIO 2-in-1 wireless charging station is an elegant vase-shaped object that can work as a decorative object within your home or on your desk. The OBLIO sanitising wireless charger uses built-in UV technology. For a 360° disinfection, simply flip your phone to expose its second surface for the 20-minute sanitising periods. Approximately 3 hours is needed to fully charge a compatible smartphone.
Technical Specifications:
Advanced anti-bacterial UV-C* light with ionizer technology
Kills 99.9% of germs on your smartphone screen in 20 minutes
Automatic ON/OFF sanitising cycle
LED light for correct placement and charging status
Compatible with Qi-enabled smartphones with size up to 8.3 cm wide / 1.05 cm thick including case (not metal)
Laboratory tested against common bacteria
Rechargeable on USB-C port (cable included)
Power supply: on a Quick Charge 3.0 certified power adapter or a USB DC 9V/2A power adapter (not included)
Material: ABS / Rubber finishing
Dimensions: Ø 2.7 x 5.3 x 6.8"
Available in 5 colours