Montblanc's Patron of Art collection is one of their most anticipated collections. Since 1992, Montblanc has annually designed a collection of writing instruments in collaboration with their foundation "D'enterprise Montblanc de la Culture" to support and preserve the contemporary arts. Montblanc's Patron of Art collection honours a patron of art with at least 2 limited edition writing instruments and accessories.
Some previous notable patron's Montblanc has honoured in the past are; Alexander the Great (1998), Charlemagne (2000), Sir Henry Tate (2006), Henry Steinway (2014), Ludwig II (2018) and Moctezuma I (2020).
2021's Patron of Art writing instrument is paying homage to Napoléon Bonaparte (1769 - 1821). Napoléon Bonaparte was the Emperor of France from 1804 until 1814, and again in 1815. Bonaparte was and still is one of the most celebrated leaders in history due to his cultural and political legacy. Napoléon Bonaparte's era is regarded as the "Golden Age of French Craftsmanship (Metier D'Art)".
Bonaparte devoted a lot of his time to Neoclassicism, reviving the Classical styles of ancient Greece and Rome in the European continent.
Napoléon Bonaparte Limited Edition 4810 Fountain Pen
The blue lacquer barrel and cap has taken inspiration from both Bonaparte's uniform and the throne room in the Palace of Fontainebleau. The gold lacquer bees a symbol of France's first royal dynasty, the Merovingians. The Au 750 solid gold nib has been engraved with Napoléon wearing the bicorn hat (Bonaparte wore the hat the wrong way round to stand out). The gold clip is shaped like Bonaparte's sword blade and the red stone is reminiscent of Josephine's coronation ring.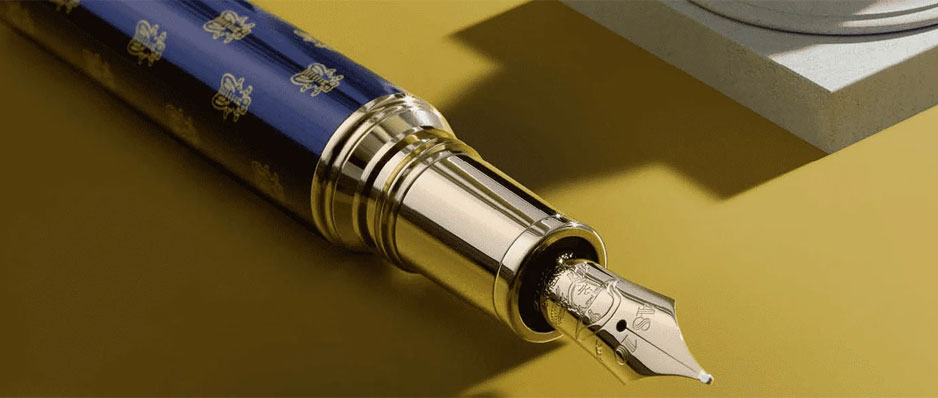 Napoléon Bonaparte Limited Edition 888 Fountain Pen
The 888 fountain pen features a solid yellow gold skeleton spiral to cover the lacquer barrel and cap. The Au 750 solid gold spiral features oak leaves (from his consul uniform) to represent strength and longevity, olive leaves (from his uniform of the French Academy) as a symbol of strength and victory, wisdom and faithfulness, immortality, hope, wealth and abundance and bees as a symbol to disconnect from Bourbons and link to Mérovingiens.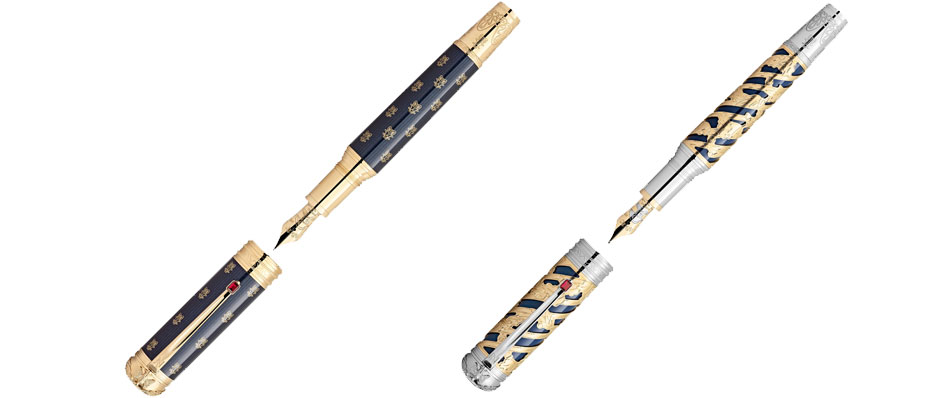 The Patron of Art collection also features a small collection of accessories to match up with the fountain pens. This year there's a Fin Stationery Notebook, Cufflinks and an Ink Bottle.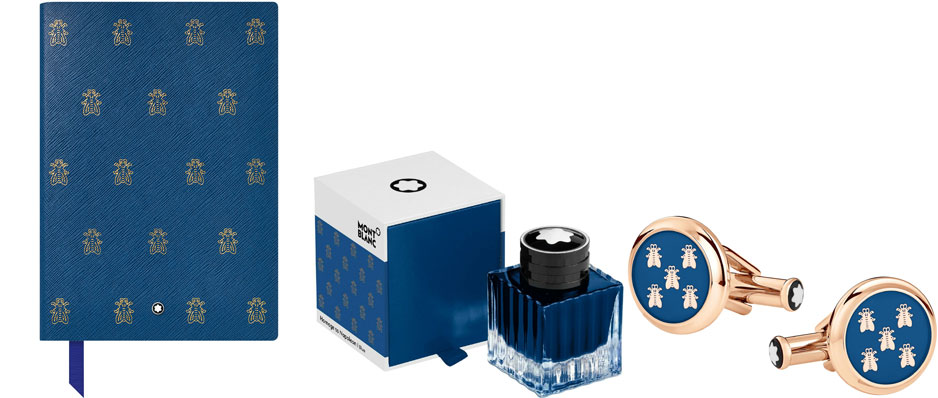 If you have any questions regarding this Patron of Art collection or any previous collections please don't hesitate to get in contact :)