S.T. Dupont Paris is another one of our favourite brands here at Wheelers Luxury Gifts. S.T. Dupont Paris is known for its high-quality lighters, writing instruments and more. S.T. Dupont Paris has a collection of items that fall under a Be Exceptional category. Consisting of limited edition products and partnerships that are about having a vision that's combined with expertise to challenge boundaries and charter new paths. Recently, S.T. Dupont Paris released limited edition writing instruments and accessories inspired by Claude Monet's Impression Sunrise painting.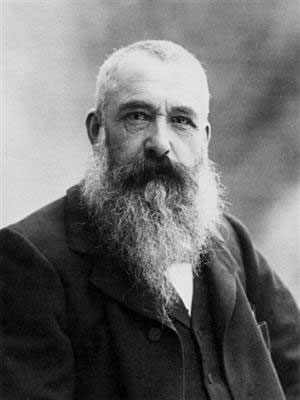 Claude Monet (1840-1926) was a French painter best known for his impressionist style painting. S.T. Dupont was founded in 1872, the year that Claude Monet painted the Impression Sunrise painting. For this reason, each piece in the Monet set has been limited to 1872 pieces. S.T. Dupont Paris' dedication to Monet features a set of writing instruments, lighters and accessories featuring Monet's Impression Sunrise painting digitally printed all over the exterior or cap of the writing instrument.
The limited edition pieces feature the Monet Fountain Pen, Monet Rollerball Pen, Monet Ballpoint Pen, Monet Smoking Kit and Monet Writing Instrument kit. All blue items feature contrasting gold features. Unfortunately, the writing instruments and lighter cannot be personalised but the presentation box can plaque engraved. Please see the below images for the Monet writing instruments.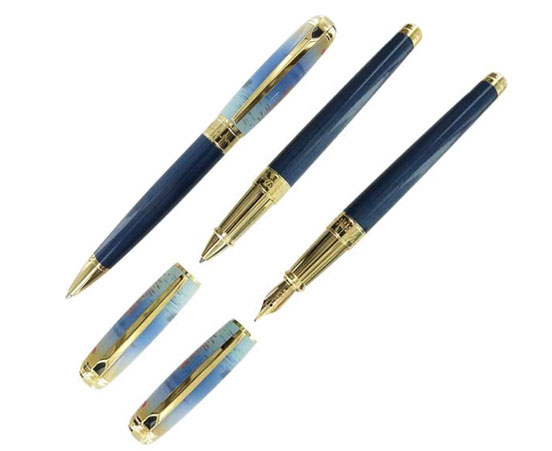 The Monet collection features some beautiful pieces but our favourites are the Writing Instrument Kit and Lighter & Pipe Smoking Kit.
The Monet Writing Instrument Kit is one of our favourites because it's so diverse. The writing instrument kit consists of a navy smooth leather passport holder which has Claude Monet's artwork embossed on the front. This kit offers one of the Monet writing instruments and is interchangeable. The writing instrument can either be used as a rollerball or piston fountain pen. The writing instrument has been crafted out of blue Chinese lacquer with gold palladium trims. The navy leather passport holder can be embossed if you desire - making this a perfect gift for yourself or a loved one.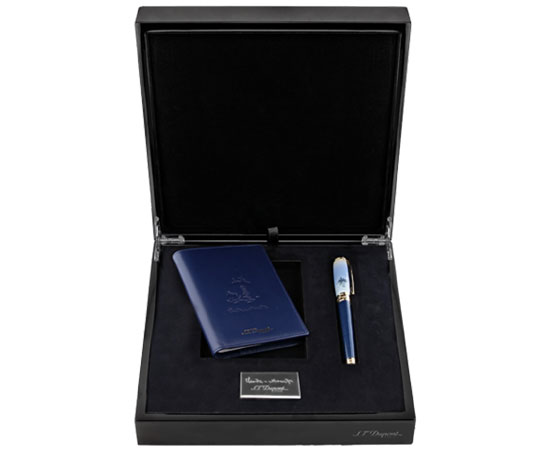 Our second favourite in the Monet set is the Lighter and Pipe Smoking Kit. This Monet smoking kit consists of the Monet lighter that's part of S.T. Dupont's Ligne 2 collection and a navy blue pipe. The Ligne 2 lighter features Monet's Impression Sunrise painting digitally printed all over the exterior. The navy pipe has been crafted out of natural lacquer with a gold plaque that has S.T. Dupont engraving on.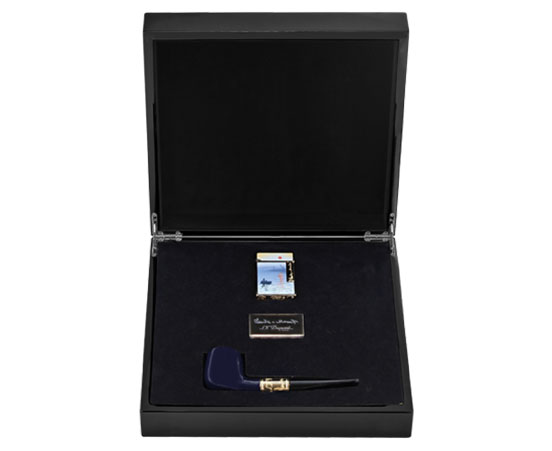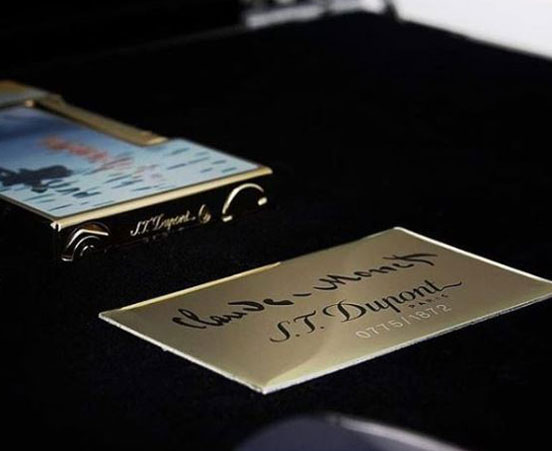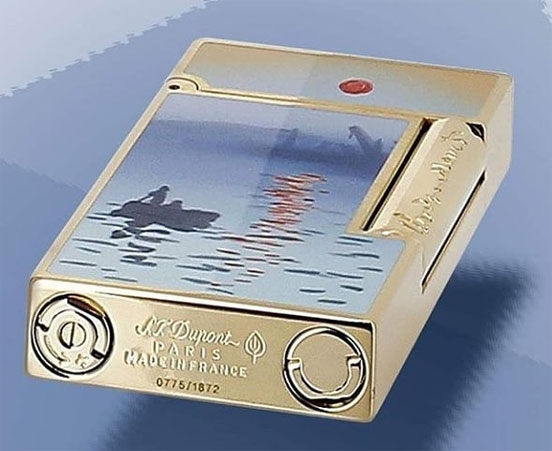 Wheelers Luxury Gifts Personalisation
Here at Wheelers Luxury Gifts, we offer a number of different personalisation services. All S.T. Dupont Paris Monet inspired products are presented inside special packaging that's dedicated to Monet if your items is a gift we offer special plaque engraving services for the presentation box. We also offer gift wrapping services, so if you want to the item to be delivered straight to the recipient we can gift wrap it for you. We offer free UK delivery on all items here at Wheelers Luxury Gifts and all items over £100 you will receive free UK next day delivery. Please don't hesitate to contact us if you have any questions :).