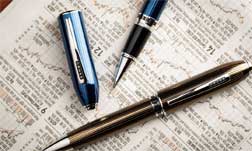 Cross Writing Instruments
View our selection of Ballpoint, Fountain, Rollerball Pens and more.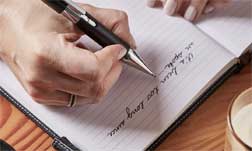 Cross Stationery & Refills
View our selection of Pen Refills & more.
Cross Pens - Peerless Precision
For well over 150 years, people have enjoyed giving, receiving and using writing instruments crafted by Cross. Richard Cross and Edward W. Bradbury established this wonderful brand back in 1839 in the town of Providence, Rhode Island. The earliest items to leave the factory were elegantly tooled gold and silver casings for wooden pencils. However, in the decades that followed, Cross developed a reputation for manufacturing, the most sophisticated of writing instruments -
"Handwriting enables civilization"
Toby Beta
The 'Peerless' Fountain Pen
In 1889 The Cross Pen Co. created its very first fountain pen. The matchless elegance and precision of this beautiful instrument led to it being named "Peerless."  This fountain pen soon became an American design classic.
The Townsend - The Presidents' Pen
In 1938, Cross launched their magnificent Art Deco Fountain Pen. So successful did it become that the decision was taken to re-style it and name it The Townsend, after the famous family of gold and silversmiths. In subsequent years, this pen was used by numerous U.S. Presidents, earning it the name, The Presidents' Pen.
Cross Develops the Ballpoint Pen
The ballpoint pen was invented in 1945. However, early models were crude and unreliable. Cross refused to jump onto the bandwagon until it could develop the technology to its own strict levels of perfection. Their technicians spent many years painstakingly testing and adapting ballpoint technology before finally releasing the Cross Quality Ballpoint Pen in 1953.
The World's Most Admired Writing Instruments
In the 1970s, Cross chose Japan for their very first overseas distributorship. Since then, the company has continued to meet international demand for fine writing instruments. Cross are now represented in eighty nine countries around the world.
Personalisation, Giftwrap and Corporate Gifts
A further innovation from Cross was the launch of their personalisation service. In the early 1900s, they launched a novelty line of pencils in the shapes of knives, letter openers, rulers and screws.

Here at Wheelers Luxury Gifts, we're proud to continue this tradition of making Cross products really special by offering an engraving service. Make your gift genuinely personal with a touching sentiment engraved on the barrel. Alternatively, a Cross Pen makes a smart and memorable corporate gift. There's no better way to impress a client or thank a long-serving employee than to present them with a Cross writing instrument.
To add the final 'Wow!' why not make your gift from Cross Pens even more unforgettable by having it gift wrapped?
UK Delivery for all purchases from the Cross Collection, is of course, completely free.


Wheelers Luxury Gifts is an Authorised Cross Retailer. Visit the Official Cross website.