Corporate Gifts
Call
01509 266320
to see what we can do for you
At Wheelers Luxury Gifts we specialise in luxury brands, so if your company is looking for that extra special gift to mark a company milestone or major event we are here to help. We can assist you in choosing the perfect product from our range of world-renowned brands to find a gift that exudes sophistication and class that will be treasured for years to come.
Wheelers Luxury Gifts is a family run business with over 35 years of experience. Every order we receive is important to us and is handled with great care and attention to detail. We remove the hassle and stress away from you, ensuring your order is delivered on time and complete, so you can concentrate on your own job. We have vast experience of corporate orders, having dealt with many different companies, from small local businesses to global corporations, each with their own individual needs.
View our portfolio down below for examples of some of our previous projects. Once you've decided what you would like doing please call us on 01509 266320 so that we can help you with your order, or if you can't decide, let us help you by providing you with corporate executive gift suggestions for your requirements.
WE SPECIALISE IN:
Unique Corporate Gifts and Corporate Promotional Gift Ideas.
Corporate Gift Engraving.
Long term service awards.
Sales targets achieved.
Retirement Gifts.
VIP visits.
New business relationships.
Reproduction of your company logo.
SOME OF THE COMPANIES WE PROVIDE CORPORATE GIFTS FOR
Some of the companies we provide Corporate Gifts for include: Allianz, Aviva, Brush, Baker Hughes, Birmingham Airport, G4S, Chubb, Dell, Hitachi, Island, Investec, Hancocks, MasterCard, Nexen, Adaptive Mobile, Volkswagen, Samsung, Solutions Driven, Kimberly-Clark, Lloyds Banking Group, Embraer and Alcon.
EXAMPLES OF OUR PREVIOUS WORK: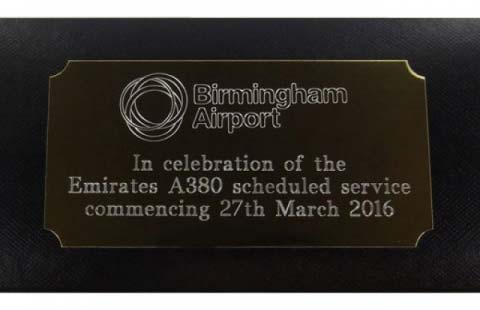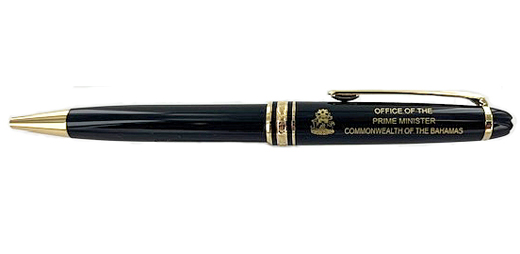 TO SEE MORE EXAMPLES, WHY NOT TAKE A LOOK AT OUR ENGRAVING PORTFOLIOS
Below are some of the luxury brands we're happy to corporate engrave:
Visit our brands page to view the rest of our luxury brands.
We have identified that our corporate clients fall into two categories: Those looking for a gift to celebrate external successes, such as the signing of an important contract, a new business partnership, a joint venture or to welcome important clients. With the second being corporate landmarks, which are usually celebrated internally, such as awards for recognition: long service awards, achievement, incentives, retirement and leaving gifts.
Our top of the range engraving equipment and specially trained engravers can personalise the majority of products displayed on our website and within our luxury store. Whether you choose a pen, leather goods, jewellery or champagne we can personalise them for you with your company name, a date or personal message. If you prefer a longer and more intimate message or perhaps your company logo engraving then a metal plaque can be engraved and placed on to the presentation box containing your gift.
Our luxury gift wrapping service will add the finishing touch to your personalised corporate gift to show the care that has been taken.
We have been advising clients for over 35 years and offer a very friendly and personal service. If you require any help or advice don't hesitate to contact us, whether it be which product is suitable or what engraving font would look best, you can call us on 01509 266320 and we will guide you through the complete process.
IMPORTANT: PLEASE CHOOSE YOUR FONT CAREFULLY BEFORE HAVING YOUR SELECTED GIFT ENGRAVED.
There is a small selection of fonts which will contain different character designs, and you may not like or approve of some of them. For example, in one of the fonts 'Victoria,' the letter 'V' looks similar to the letter 'D' because of the italic serif design. Once an item has been engraved we cannot refund or exchange it, because we will not be able to resell an engraved an item.

Below are examples of the fonts that can be used with Pen Cap & Clip engraving and Champagne, Leather & All Metal Fonts for Engraving (which can be found further down the page).
PEN CAP & CLIP FONTS AVAILABLE FOR ENGRAVING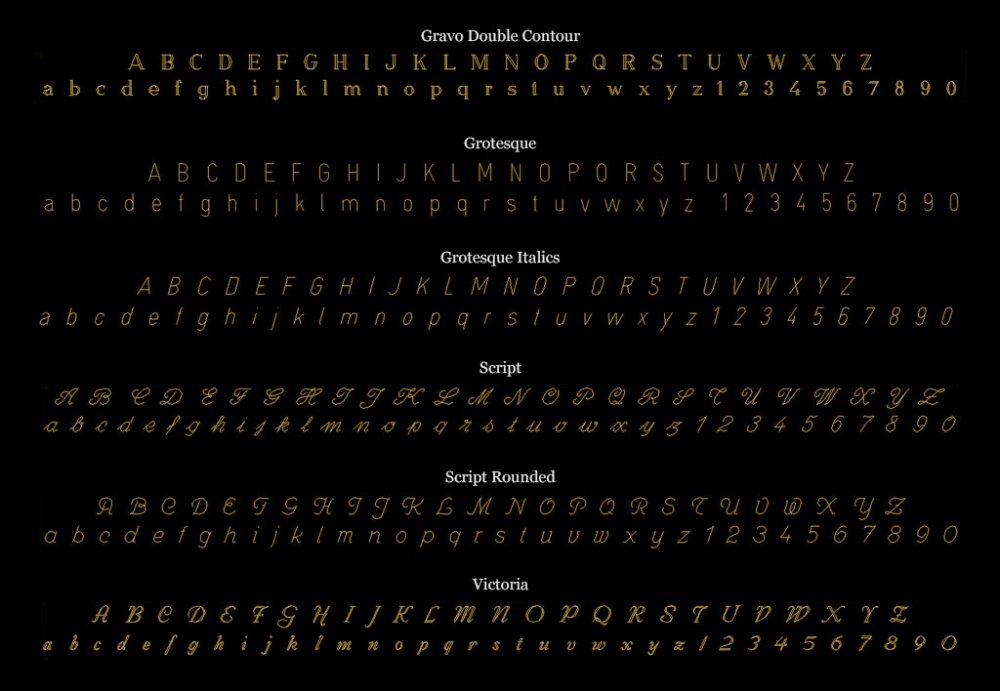 CHAMPAGNE, LEATHER & ALL METAL FONTS AVAILABLE FOR ENGRAVING