Personalised Engraving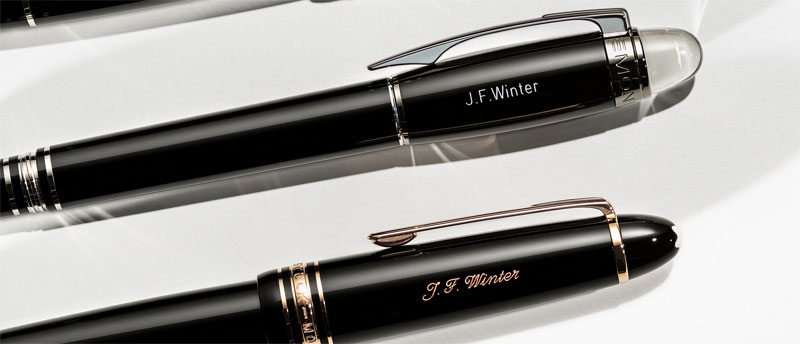 Wheelers Luxury Gifts is a family run business with over 35 years of experience in the retail industry. We specialise in only luxury products from distinguished brands. When you are looking for a memorable gift for a special occasion we are here to help you make the best choice. We will be able to help you find a personalised gift that exudes quality and shows great care was taken in the selection process. After all, a personalised gift is one that will be treasured forever.

At Wheelers we own top of the range engraving equipment that is used daily by our trained engravers and can usually turn your engraving request around in 24 hours (excluding weekends and bank holidays.) So if you need your engraved gift urgently we can accommodate your tight deadline. The majority of products found on our Website and in-store can be personalised in one way or another. Our selection of pens, leather goods, home accessories and more can be personalised with a name, initials, date or message. If you are looking to personalise one of our luxury products with a longer and more intimate message, a metal plaque can be engraved for you and placed on the presentation box of your chosen gift.

At Wheelers we offer a luxury gift wrapping service to help add the finishing touch to your personalised gift, whether it be for a lady or gentleman.

If you require any help or advice when ordering a personalised product we offer a very friendly and personal service. If you would like to know which font would look best, what colour to choose or any other details you can call us on 01509 266320 and speak to one of our trained advisors.
IMPORTANT: PLEASE CHOOSE YOUR FONT CAREFULLY BEFORE HAVING YOUR SELECTED GIFT ENGRAVED.
There is a small selection of fonts which will contain different character designs, and you may not like or approve of some of them. For example, in one of the fonts 'Victoria,' the letter 'V' looks similar to the letter 'D' because of the italic serif design. Once an item has been engraved we cannot refund or exchange it, because we will not be able to resell an engraved item.
Below are examples of the fonts that can be used with Pen Cap & Clip engraving and Champagne, Leather & All Metal Fonts for Engraving (which can be found further down the page).
Why not take a look at our engraving portfolios;
Pen Cap & Clip Fonts Available for Engraving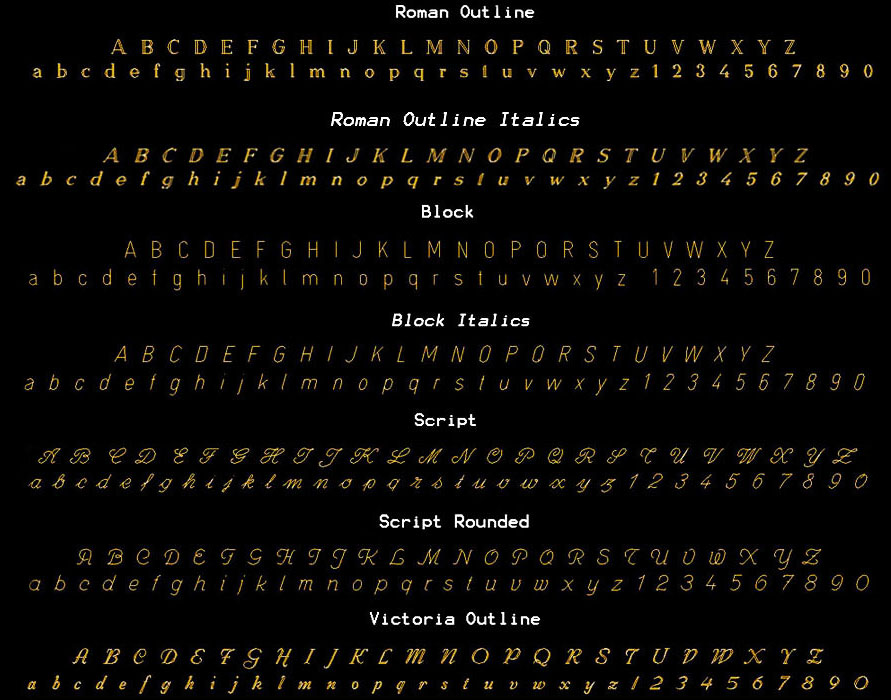 Champagne, Leather & All Metal Fonts Available for Engraving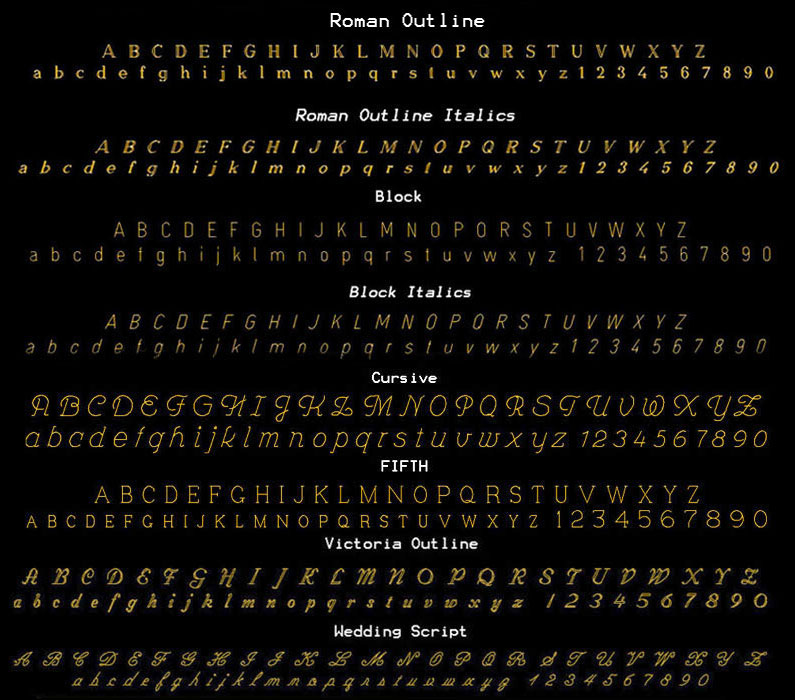 Leather Fonts Available for Blind Embossing