TUMI LEATHER & TRAVEL
See our selection of Bags, Belts, Wallets & more.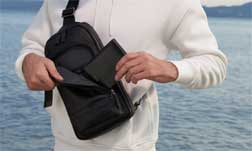 TUMI ACCESSORIES
See our selection of Keyrings, Money Clips & more.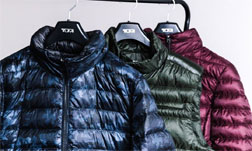 TUMI CLOTHING
See our selection of Jackets & Gilets.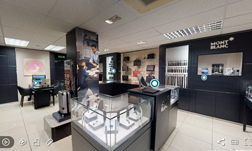 VIRTUAL TOUR
Take a 360° virtual tour around our Montblanc Boutique & Store.
TUMI
Founded in 1975; TUMI takes its name from a Peruvian ceremonial knife known to its founder Charlie Clifford. Charlie spent a short time in Peru serving in the Peace Corps; the young entrepreneur also imported leather bags from South America. During the 1980s, TUMI's innovative introduction of soft, ultra-functional, black on black ballistic nylon travel bags catapulted the business to its current leadership role of today.
TUMI produce strong, functional and aesthetically pleasing designs; by using the finest and toughest materials to add luxury and create something that will last and not break down with the daily wear and tears of life. TUMI has taken the world by storm and are featured globally in the press; as seen in magazines such as 'Women's Health', 'GQ UK', 'New Yorker', 'LA Times', 'Forbes Korea' and 'Boomerang Business Week' are just a few of the popular press TUMI have been shown in. TUMI pride themselves on something they call 'TUMI Solutions' which is the manufacturing process and the design that goes into their travel range mainly; how they can overcome the stresses of travelling and make it easier for the customer. Below are some of the solutions:
TUMI T-Pass
The TUMI Tracer
TUMI ID Lock
TUMI Add-a-Bag Strap
They also have a 30 step trial process before the product is finalised which include key attributes such as product quality and selecting the right materials, styles and function.
TUMI & Wheelers Luxury Gifts
We have an extensive range of TUMI products which include leather accessories, luggage, travel accessories, handbags, clothing and electronics. We stock TUMI's most popular collections including Alpha, Harrison, TUMI Latitude and Voyageur.
We offer free UK delivery on all products we stock here at Wheelers Luxury Gifts and free UK next day delivery on all products over £100.
Mr Wheeler is dedicated to ordering a wide and high-quality range of TUMI products, but if by chance you happen to be looking for a particular TUMI item that we do not stock, please do not hesitate to get in contact and we will try our best to assist you. We pride ourselves on offering good, old-fashioned personal service and are always happy to help.
TUMI Complimentary Personalisation Service
Here at Wheelers Luxury Gifts, we can personalise the majority of TUMI products listed on our website for free of charge. Our in-house engraver can emboss leather goods and engrave metal surfaces, to help you create the perfect, luxury gift.
TUMI is the perfect brand if you're looking for high-quality, luxury products that you can also give as gifts and here at Wheelers Luxury Gifts we like to help you make them that little bit more special. On top of being able to engrave on some TUMI products, therefore, we can also engrave silver and gold plaques to place on the gift boxes, and we also offer a £5 gift wrapping service. 
We are an Official TUMI Stockist in England. Visit our Wheelers Luxury Gifts store in Loughborough, Leicestershire, that features a huge array of writing instruments, jewellery and leather. We would love for you to come and see us, we are open 5 days a week, Monday to Friday 9 - 5:30 pm. You may call 01509 266320 or contact us by email - [email protected]