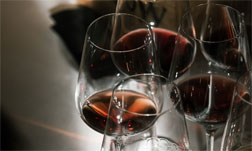 Fonseca Port
See our selection of Port & Gift Sets.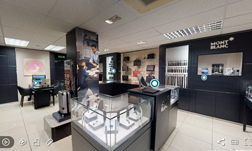 VIRTUAL TOUR
Take a 360° virtual tour around our Montblanc Boutique & Store.
Fonseca Port
"Port is not for the very young, the vain and the active. It is the comfort of age and the companion of the scholar and the philosopher." - Evelyn Waugh.
Since the 19th century, Fonseca has maintained its position as one of the leading brands of Vintage Port producers. Its vintages are renowned for their luxurious fruit flavours, becoming ever richer and more opulent with age.
From its very first vintage 'release' of 1840 right through to the unrivalled, superb declared vintages of recent years, the Fonseca house has never failed to produce the most highly acclaimed of port wines. Even during some of Portugal's most difficult times, Fonseca Port Wine has always lived up to its high standards.
In his acclaimed book on Vintage Port, James Suckling writes:
'The vintage Ports of Fonseca are perhaps the most consistently great of them all. Not only do they have a striking fleshiness and powerful richness when young, but they retain that youthfulness for decades.'
This consistency of which Suckling writes is derived from
Continuity of family involvement.
The depth of knowledge and skill passed down from one generation to the next.
Restricting the ingredients to the firm's three estates of Cruzeiro, Panascal and Santo António.
The appreciation of the quality of Fonseca Vintage Port is not solely due to these factors. Fonseca has also earned huge respect for the care of its vineyards and the unique environment of the Douro Valley. At the forefront of the firm's philosophy is a pledge to maintain an environment that is both sustainable and organic in nature. In fact, Fonseca was the very first house whose port wines were made entirely from organically produced grapes.
Undoubtedly, Fonseca is most famous amongst wine enthusiasts as the producer of the astonishing Bin No.27. This wonderfully sophisticated reserve Port launched over forty years ago and has become one of the most successful and popular Port blends. More than any other Vintage Port, it carries the defining fruity, rich character which makes it recognisable to even a port novice.
The Fonseca Port House enjoys the most loyal of followings. Through more than 150 years of consistently magnificent port production, Fonseca has established a devoted community of Port enthusiasts. Above all, these connoisseurs value the inimitable character and originality of its wines. Amongst their number are collectors, sommeliers, connoisseurs, as well as those who just take pleasure in drinking the wonderfully complex, rich Ports of The House of Fonseca.
Fonseca Port at Wheelers Luxury Gifts
We have a wonderful selection of the finest Fonseca Port. From their Terra Prima (Organic) Reserve Port to their 40-Year-Old Tawny Port, we have some wonderful port for every discerning palate. To ensure there is a perfect gift for every occasion, we stock a selection of sizes and styles of Fonseca port, as well as an array of gift sets.
*Licensing Act 2003 - It is an offence to purchase or attempt to purchase alcoholic liquor if you are under the age of 18.
Fonseca Port Personalisation Service
Here at Wheelers Luxury Gifts, we have professional in-house engravers who can tend to your personalisation needs. We have top of the range engraving equipment to engrave your Fonseca bottle. If your Hennessy product is presented inside a presentation box we can engrave a silver or gold plaque to be stuck on the presentation box's lid. 
Complete your Fonseca Port purchase by adding our £4 gift wrapping service. Have your choice of either silver or lavender wrapping paper and a handwritten gift tag. We also offer free UK delivery on all items and free UK next day delivery on all items over £100.
*Please note, we cannot ship Fonseca to destinations outside of Europe. 
There is no better way to celebrate your business's success or that of an employee than with a bottle of Vintage Port from the House of Fonseca. It could be a promotion, a target exceeded or maybe your company has won a new contract or achieved a milestone. Your chosen bottle of Fonseca engraved with your company logo or personal message is the perfect way to say 'Well done!'.
Wheelers Luxury Gifts Shop
Mr Wheeler is dedicated to ordering a wide and high-quality range of Fonseca products, but if by chance you happen to be looking for a particular Fonseca item that we do not stock, please do not hesitate to get in contact and we will try our best to assist you. We pride ourselves on offering good, old-fashioned personal service and are always happy to help.
We are an official Fonseca stockist in England. Our Wheelers Luxury Gifts store sits in Loughborough, Leicestershire, and features a huge array of writing instruments, jewellery and leather. We would love for you to come and visit, we are open 6 days a week, Monday to Friday 9 - 5:30 pm and Saturday 9:30 - 5 pm. You may call 01509 266320 or contact us by email [email protected]