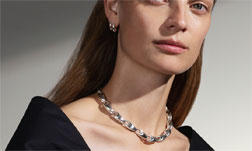 Georg Jensen Jewellery
See our selection of Earrings, Necklaces & more.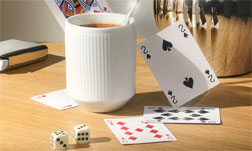 Georg Jensen Accessories
See our selection of Keyrings, Photo Frames & more.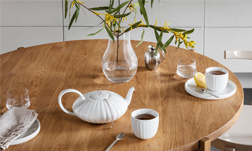 Georg Jensen Homeware
See our selection of Candles, Wine Accessories & more.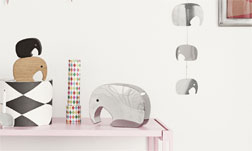 Georg Jensen Baby & Child
See our selection of Baby Gifts.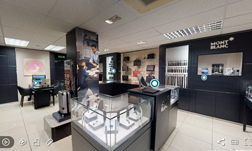 VIRTUAL TOUR
Take a 360° virtual tour around our Montblanc Boutique & Store.
Georg Jensen
The Story of a Design Icon
Georg Jensen, the man behind this world-famous jewellery and home accessories brand, was a sculptor and silversmith, decades ahead of his time as both a craftsman and a businessman.
Georg was born in 1866 in the small town of Raadvaad near Copenhagen. Jensen soon found his life's calling. In 1892 he qualified as a sculptor from the Danish Royal Academy of Fine Arts. He spent the following years travelling the world to perfect his craft.

He began by working with ceramics but turned to silver in 1904. He opened his own smithy in a small studio in Bredgade in central Copenhagen. It was here that he mastered his profession, earning wide recognition for his meticulously crafted art deco and jewellery. Before long Georg had opened stores in the most fashionable cities of Europe - Berlin, Stockholm, Paris and London. By 1924 he had spread his creative wings across the Atlantic and opened the first US store in New York.
Jensen devoted himself to building his legacy; a globally recognised brand. He died at the age of 69 in 1935. Still today, his unique sense of quality and his undying spirit of craftsmanship live on and continue to define the inimitable Georg Jensen brand.
Georg Jensen - Original & Authentic Danish Design
For over a hundred years, the designers and craftsmen of the Georg Jensen studios have been designing and creating timeless art of the very highest quality. Quality craftsmanship and innovative design have for years been the watchwords of Georg Jensen. The focus of their creations has always been on lifestyle; practical, yet elegant hollowware, luxury watches, fine jewellery. Georg Jensen has always created designs displaying beauty hand-in-hand with functionality. The foundations on which Georg Jensen built his legacy back in 1904 were an eye for the aesthetic, an appreciation of the practical, along with the desire to reach out and support design talent - values which are cherished today as much as ever.
Georg Jensen at Wheelers Luxury Gifts
At Wheelers Luxury Gifts, we carry an enormous range of Georg Jensen products; jewellery, fashion accessories as well as products for the kitchen and home.
Our Georg Jensen jewellery collection is comprehensive. You'll find a stunning array of pendants, necklaces, bracelets, earrings, rings and cufflinks. Amongst our range of Georg Jensen accessories is money clips, card holders, keyrings and desk accessories. Georg Jensen home accessories include decanters, candle holders, photo frames, wine & bar tools, not forgetting children's dinner accessories.
Georg Jensen Personalisation Services
At Wheelers Luxury Gifts, we revel in providing those little 'extras' that make your gifts extra special and personal. We have top of the range engraving/embossing equipment here at Wheelers Luxury Gifts. We can personalise leather goods, jewellery, holloware you name it we can engrave it. We also offer special gift wrapping services to finalise your purchase. Simply select lavender or silver wrapping paper and choose what you want your handwritten message to say. 
Does your company have a success to celebrate? Are you celebrating a company target exceeded? Has an employee earned a promotion? Have you won a new contract or are you entertaining a VIP guest? Whatever the reason for the celebration, Georg Jensen will provide the ideal gift solution. We offer special corporate gift services here at Wheelers Luxury Gifts. We can engrave your company's logo on either a presentation plaque or your chosen gift.  
Wheelers Luxury Gifts Shop
Mr Wheeler is dedicated to ordering a wide and high-quality range of Georg Jensen products, but if by chance you happen to be looking for a particular Georg Jensen item that we do not stock, please do not hesitate to get in contact and we will try our best to assist you. We pride ourselves on offering good, old-fashioned personal service and are always happy to help.
We are an official Georg Jensen stockist in England. Visit our Wheelers Luxury Gifts store in Loughborough, Leicestershire, that features a huge array of writing instruments, jewellery and leather. We would love for you to come and see us, we are open 5 days a week, Monday to Friday 9 - 5:30 pm. You may call 01509 266320 or contact us by email - [email protected]