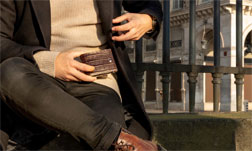 S.T. Dupont Paris Leather & Accessories
See our selection of Work Bags, Cufflinks & more.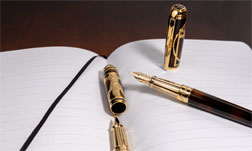 S.T. Dupont Writing Instruments
See our selection of Ballpoint, Fountain, Rollerball Pens & more.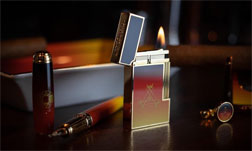 S.T. DUPONT LIGHTERS & ACCESSORIES
See our selection of Lighters, Accessories & more.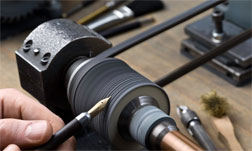 S.T. DUPONT STATIONERY & REFILLS
See our selection of Pen Refills, Notebooks, Pen Cases & more.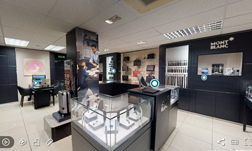 VIRTUAL TOUR
Take a 360° virtual tour around our Montblanc Boutique & Store.
S.T. Dupont Paris
Handcrafted French excellence for the elite.
In 2012, S.T.Dupont, the most stylish of accessories brands, celebrated 140 years of prestige and exclusivity. One can look back over a rich, fascinating story, encompassing three centuries and featuring some of the most illustrious design personalities of their day.
Simon Tissot Dupont was no ordinary trunk maker. He was a trunk maker with a vision. At the age of 25, he became a photographer to Napoleon III and understood the need for quality travel goods. In 1872, he created a luggage and leather goods workshop, which then began to produce a steady stream of exceptional products for the very highest social circles. His vision was the Art of Travel, accompanied by trunks and cases personalised in every detail.
One of S.T. Dupont's earliest design successes were the Dupont lighters, made exclusively for the Maharajah of Patiala. He had ordered a hundred Chinese lacquer minaudière clutch bags for his consorts, each one containing a solid gold lighter. The workshop spent three years completing this amazing and valuable order.
There were many other design landmarks in the illustrious history of this fine company. One example was the case of Hollywood star, Humphrey Bogart, who in 1947, ordered a lightweight, elegant travel bag, the Bogie, personalised with his initials.
In 1953, Andrè Dupont created his very first handbag, the Riviera, as a limited edition. None other than Audrey Hepburn was one of the first clients to own one.
Jackie Kennedy-Onassis famously owned a Dupont lighter. This was engraved with a simple J. She loved it so much that in 1973 she ordered a pen to match. So S.T.Dupont hit on the idea of reproducing the roller of the lighter as the body of a pen. And another Dupont icon was born: the "Classique" pen.
S.T. Dupont Paris at Wheelers Luxury Gifts
S.T. Dupont Paris comprises Four 'Arts' within the brand:
The Art of Writing
The Art of Fire
The Art of Travel
The Art of Seduction
The Art of Fire is represented by Dupont's collection of lighters and lighters accessories - the emblem of Dupont since 1952. World-renowned, Dupont lighters have the signature "cling" when opened. Each lighter has been manufactured by skilled craftsmen using precious materials such as Silver, Gold, Palladium and Lacquer. Each piece is unique and has its own identification number engraved on the bottom.
The Art of Writing is to be found in S.T. Dupont's collection of specialist writing instruments - including both pens and mechanical pencils. The collection was launched initially in 1973 with Dupont's first luxury ballpoint pen. The pens have been designed to be intimate and personal. They are elegant and have been made out of top quality materials such as silver, gold and lacquer.
The Art of Seduction is founded on Dupont's jewellery collection - cufflinks, keyrings, tie bars all made from precious metals and jewels. Â Master craftsmen work with gold, silver, palladium and other materials to create these elegant, yet minimal, designs. Â Timeless pieces that have been made with quality 'savoir-faire'.
The Art of Travel draws inspiration from the beginnings of the company. This is a collection of quality leather goods which have been made from calfskin, natural buffalo hide and full-grain lambskin. Each leather type has been meticulously tested. The bags and accessories in this collection are both stylish and functional.
S.T. Dupont Paris Personalisation Service
Why not personalise your chosen S.T. Dupont accessory with a name, date or initials for a truly memorable gift? At Wheelers Luxury Gifts we can engrave or emboss, directly on to many S.T. Dupont products including their pens and wallets.
For longer messages, we can engrave a plaque for the box. S.T. Dupont products are perfect corporate gifts. Whether it's a company milestone or retirement there's no better brand to use than S.T. Dupont Pairs. We can engrave your company's logo on a gold or silver plaque that will be attached to the products presentation box. 
Complete your S.T. Dupont Paris purchase by adding on the £4 gift wrapping service. We offer gift wrapping in either lavender or silver paper. We offer free UK delivery on all products and free UK next day delivery on all products over £100.  
Wheelers Luxury Gifts Shop
Mr Wheeler is dedicated to ordering a wide and high-quality range of S.T. Dupont Paris products, but if by chance you happen to be looking for a particular S.T. Dupont Paris item that we do not stock, please do not hesitate to get in contact and we will try our best to assist you. We pride ourselves on offering good, old-fashioned personal service and are always happy to help.
We are an official S.T. Dupont Paris stockist in England. Visit our Wheelers Luxury Gifts store in Loughborough, Leicestershire, that features a huge array of writing instruments, jewellery and leather. We would love for you to come and see us, we are open 6 days a week, Monday to Friday 9 - 5:30 pm and Saturday 9:30 - 5 pm. You may call 01509 266320 or contact us by email - [email protected]