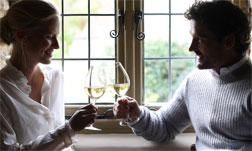 Bollinger Champagne
See our selection of Champagne & Gift Sets.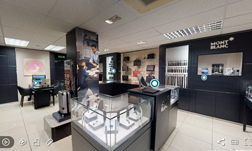 VIRTUAL TOUR
Take a 360° virtual tour around our Montblanc Boutique & Store.
Bollinger Champagne
Bollinger, Le President Of Champagne Wines
Since its foundation in 1829, The Bollinger Champagne House has evolved a reputation for producing the world's most prestigious champagnes. The unmistakable character of a Bollinger is defined by both its complexity and its refined elegance.
"I drink it when I'm happy and when I'm sad. Sometimes I drink it when I'm alone. When I have company I consider it obligatory. I trifle with it if I'm not hungry and drink it when I am. Otherwise, I never touch it - unless I'm thirsty." Lilly Bollinger - Company Chairman 1941 - 1971
What Gives Bollinger its Unrivalled Pedigree?
The unmatched, rigorous attention to detail?
The endless quest for perfection?
The Pinot Noir grape - a demanding variety possessing an intense character, forming the backbone of the Bollinger style?
Allowing the wines to mature for twice as long as the appellation demands?
That words such as 'shortcut', 'compromise', 'second best' have no place in the Bollinger lexicon?
The answer, of course, is 'all of these ... and much more'. Words alone cannot do justice to the qualities that make the Bollinger, Le President of Champagne Wines. The mystery can only be truly unlocked by taste.

Bollinger never accepts the easy option. From selecting the grape through to the final 'stoppering' with natural corks, no effort is spared.
Where ancient techniques are proved to be the best, they are meticulously preserved. For example, the process of 'riddling'. Over a period of weeks, at regular intervals, the bottles are carefully shaken and twisted at a 45-degree angle to allow the sediment to fall to the top end of the bottle. Finally, a plug of sediment forms that can then be removed. Almost all wine houses use machinery to automate this process. Not so at the house of Bollinger, where the process of hand-riddling is still painstakingly preserved.
The Ultimate Accolades
The impeccable standards achieved by the craftsmen and women of Bollinger have been recognised in many ways. Bollinger was the first Champagne House to obtain the highly respected accreditation, the Patrimoine Vivant (living heritage) seal of quality.
Furthermore, in Great Britain, Bollinger has been awarded the Royal Warrant since 1884.
'Bollinger Mr Bond?'
It was in Live and Let Die that James Bond (played by Roger Moore), luxuriating in his San Moniquan Hotel room, orders Bollinger Champagne - 'slightly chilled'.
Featuring in almost every Bond movie since Bollinger and Bond has become one of the most enduring marketing partnerships in motion picture history.
Bollinger at Wheelers Luxury Gifts
We're proud of our wide range of Bollinger Champagne. From Cuvèe Brut to the R.D. 2002 Vintage; from Rosè to Bollinger gift sets, we have a wonderful selection. We offer a variety of bottle sizes, from the 37.5cl to the 150cl magnum.
*Licensing Act 2003 - It is an offence to purchase or attempt to purchase alcoholic liquor if you are under the age of 18.
Bollinger Personalisation Service
Here at Wheelers Luxury Gifts, we have professional in-house engravers who can tend to your personalisation needs. We have top of the range engraving equipment to engrave your Bollinger bottle. If your Hennessy product is presented inside a presentation box we can engrave a silver or gold plaque to be stuck on the presentation box's lid. 
Complete your Bollinger purchase by adding our £4 gift wrapping service. Have your choice of either silver or lavender wrapping paper and a handwritten gift tag. We also offer free UK delivery on all items and free UK next day delivery on all items over £100.  
*Please note, we cannot ship Bollinger Champagne to destinations outside of Europe.
There is no better way to celebrate your business' success or that of an employee than a corporate gift. It could be a promotion, a target exceeded or maybe your company has won a new contract or achieved a milestone. Having your chosen bottle of Bollinger engraved with your company logo or personal message is the perfect way to say 'Well done!'.
Wheelers Luxury Gifts Shop
Mr Wheeler is dedicated to ordering a wide and high-quality range of Bollinger products, but if by chance you happen to be looking for a particular Bollinger item that we do not stock, please do not hesitate to get in contact and we will try our best to assist you. We pride ourselves on offering good, old-fashioned personal service and are always happy to help.
We are an official Bollinger stockist in England. Our Wheelers Luxury Gifts store sits in Loughborough, Leicestershire, and features a huge array of writing instruments, jewellery and leather. We would love for you to come and visit, we are open 5 days a week, Monday to Friday 9 - 5:30 pm. You may call 01509 266320 or contact us by email [email protected]