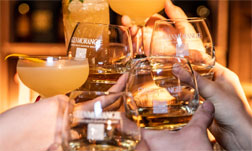 Glenmorangie Whisky
See our selection of Whisky & Gift Sets.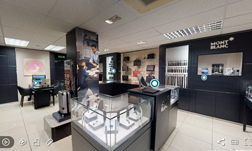 VIRTUAL TOUR
Take a 360° virtual tour around our Montblanc Boutique & Store.
Glenmorangie Whisky
... Scotland's Favourite Malt
Since 1843, from generation to generation, the famous 'Men of Tain' have been perfecting the art of whisky creation. The result of their dedication is Glenmorangie - the most seductive and complex of single malt whiskies. They have shared their skills, their knowledge and their experience and their pioneering spirit to bring to the world delicate and unique taste of Glenmorangie.
They have brought together time-honoured traditional techniques and bold, innovative ideas to create the unique, multi-layered brilliance of Glenmorangie.
There are a host of factors that have brought this magnificent brand to the state of prominence that it enjoys today. Some say it is the fact that they only use the tallest possible stills. Others will argue that the secret lies in their advanced approach to extra-maturation. Yet some swear that it is the determination to only use casks twice, that sets Glenmorangie apart as the doyen of Scottish Malt Whiskies.
Of course, the truth is that all these factors contribute to Glenmorangie's unmatched reputation. The addition of Scottish barley is also a key ingredient, as is the commitment by the company to own all the land surrounding the distillery; thus ensuring that the quality of the mineral-rich water is never compromised.
Glenmorangie - recognised the world over for its uniquely sensual, delicate and seductive single malt whisky.
Glenmorangie Whisky at Wheelers Luxury Gifts
At Wheelers Luxury Gifts, we have a wonderful range of this finest of Scottish malt whiskies. Choose from our 10, 18, 25 or 'Extremely Rare' 25-year-old whiskies - either in stand-alone bottles or as part of stylish Gift Sets.
*Licensing Act 2003 - It is an offence to purchase or attempt to purchase alcoholic liquor if you are under the age of 18
Glenmorangie Personalisation Service
Our in house team of engravers are able to engrave your personal message or company logo into the glass of the Glenmorangie bottle. For longer messages, we can engrave a plaque for the Glenmorangie presentation box.
Take advantage of our gift wrapping service to add a special finishing touch to your chosen Glenmorangie gift. Every Glenmorangie order is sent with free UK delivery, whilst orders over £100 are sent with free UK next working day delivery.
*Please note, we cannot ship Glenmorangie to destinations outside of Europe. 
Glenmorangie Whisky is the perfect choice for luxury corporate gifts, long term service awards or retirement presents for loyal service.
Wheelers Luxury Gifts Shop
Mr Wheeler is dedicated to ordering a wide and high-quality range of Glenmorangie products, but if by chance you happen to be looking for a particular Glenmorangie item that we do not stock, please do not hesitate to get in contact and we will try our best to assist you. We pride ourselves on offering good, old-fashioned personal service and are always happy to help.
We are an official Glenmorangie stockist in England. Our Wheelers Luxury Gifts store sits in Loughborough, Leicestershire, and features a huge array of writing instruments, jewellery and leather. We would love for you to come and visit, we are open 6 days a week, Monday to Friday 9 - 5:30 pm and Saturday 9:30 - 5 pm. You may call 01509 266320 or contact us by email [email protected]