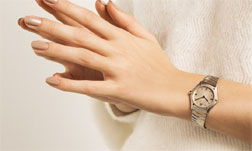 EBEL Watches
See our selection of Watches.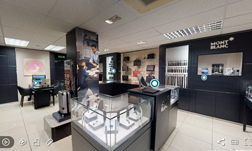 VIRTUAL TOUR
Take a 360° virtual tour around our Montblanc Boutique & Store.
Ebel
The Architects of Style, Elegance & Precision
The Ebel brand is that rare breed which brings together the perfect mix of design, style, engineering, art and craftsmanship.
In 1911, in the Swiss town of La Chaux de Fonds, Eugene Blum and his wife, Alice Levy, founded Ebel Watches. They derived the brand name from the first letters of Eugene's first and second name, 'et' (the French for 'and') and his wife's maiden name, 'Levy'. From the very earliest days, Eugene and Alice were determined to stay true to their values. Their vision was to manufacture the very finest Swiss-engineered watches which would combine distinctive style with technical expertise.
Ever conscious of the need for innovation, Ebel was among the first manufacturers to introduce the idea of a wristwatch, when pocket watches had always been the norm.
The early decades saw Ebel watches earn numerous awards and diplomas at a succession of European fashion shows and exhibitions. During the years of World War II, such was their reputation for accuracy and durability that Ebel watches became the official watch of the RAF.
Soon after the war, Ebel was one of the first manufacturers to introduce the self-winding 'a retort' movement watches. Before long the designers at Ebel came up with the famous 'wave link' bracelet watches - the distinctive style of bracelet that makes this wonderful brand recognisable the world over.
Ebel watches continue to this day to be at the very forefront of timepiece style, quality and innovation.
Mr Wheeler is dedicated to ordering a wide and high-quality range of Ebel products, but if by chance you happen to be looking for a particular Ebel item that we do not stock, please do not hesitate to get in contact and we will try our best to assist you. We pride ourselves on offering good, old-fashioned personal service and are always happy to help.
Ebel & Wheelers Luxury Gifts
At Wheelers Luxury Gifts, we're proud of our association with the world-famous Ebel brand. We stock a wide range of watches for both ladies and gentlemen. Leading the way for the men; Sports Wave, 100, Hexagon & 1911. And for Ladies; Sports, Wave, Brasilia, Beluga & Beluga Tonneau.
Ebel Personalisation Service
At Wheelers Luxury Gifts, we like to make every customer feel their purchase is special. In the case of Ebel Watches, we do this by engraving a name and a date on the back of the watch. We'll also engrave a small message on a plaque applied to the watch presentation box. We'd then be delighted to offer our £4 gift wrapping services your chosen watch. We offer UK and worldwide delivery. All UK deliveries are free and anything over £100 UK free next day delivery will be applied.
Do you have hard-working employees who deserve to have their efforts and achievements recognised? There's no better way than with an Ebel watch - a gift that will be treasured forever. Here at Wheelers Luxury Gifts, we offer corporate gifts for special employees.
We are an official Ebel stockist in England. Visit our Wheelers Luxury Gifts store in Loughborough, Leicestershire, that features a huge array of writing instruments, jewellery and leather. We would love for you to come and see us, we are open 6 days a week, Monday to Friday 9 am - 5:30 pm and Saturday 9:30 am - 5 pm. You may call 01509 266320 or contact us by email - [email protected]