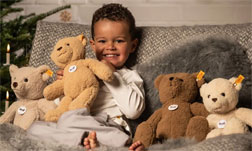 Steiff Stuffed Animals & Toys
See our selection of Teddy Bears & Stuffed Animals for children.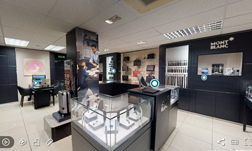 VIRTUAL TOUR
Take a 360° virtual tour around our Montblanc Boutique & Store.
Steiff
Steiff, the creator of the teddy bear, is the world's most famous plush toy company. For over 140 years, Steiff has produced high-quality, perfectly designed teddy bears and stuffed animals.  
Steiff originated in 1880 when founder Margarete Steiff made the "Elefäntle pincushion" and saw how the felt elephant made the children around her feel. The elephant is now the iconic symbol of Steiff. Margarete Steiff's mantra was "Only the best is good enough for children", which is still Steiff's mantra today.
Steiff & Wheelers Luxury Gifts
Here at Wheelers Luxury Gifts, we have a wonderful selection of Steiff teddy bears and stuffed animals. From stuffed animals that are perfect for newborn babies to limited edition teddy bears that are an ideal choice for adult collectors. 
Whether you're looking for a Steiff teddy bear to add to your collection or looking for a bear for your child Wheelers Luxury Gifts has got you covered. 
Steiff Personalisation Services 
All Steiff bears and toys are supplied inside a cellophane bag. 
If you wish to make your purchase extra special you have the option of purchasing a Steiff branded gift box with or without gift wrapping. If you choose the Steiff gift box alone that will cost an additional £5. If you choose to purchase a Steiff gift box with additional gift wrapping this will cost in total £10. 
You will also have the option to have your gift box plaque engraved.
We are an Official Steiff Stockist in England. 
Visit our Wheelers Luxury Gifts store in Loughborough, Leicestershire, which features a huge array of writing instruments, jewellery, leather & more. We would love for you to come and see us, we are open 5 days a week, Monday to Friday 9 - 5:30 pm. You may call 01509 266320 or contact us by email - [email protected]