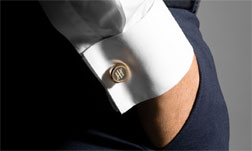 Montegrappa Leather & Accessories
See our selection of Cufflinks, Keyrings & more.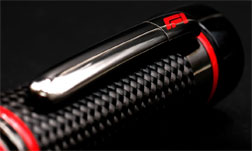 Montegrappa Writing Instruments
See our selection of Ballpoint, Fountain, Rollerball Pens & more.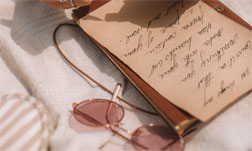 Montegrappa Stationery & Refills
See our selection of Pen Refills.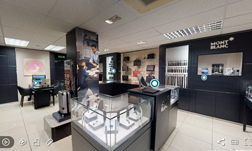 VIRTUAL TOUR
Take a 360° virtual tour around our Montblanc Boutique & Store.
Montegrappa
The Montegrappa Story
In 1912, in the town of Bassano, Montegrappa was established as a manufacturer of fine writing instruments. Since that day, some of the world's finest Fountain Pens, Ballpoint Pens and Mechanical Pencils have been exported around the world. From the very earliest years, this evocatively picturesque region of north-eastern Italy has been the inspiration for many of the classic Montegrappa designs.

Originally founded as a "Manifattura pennini d'oro e penne stilografiche" ("Manufacturer of gold nibs and fountain pens") during a turbulent period in Italy's history, Bassano was an integral part of the region's culture and social history. For generations, the area had managed to produce skilled craftsmen and women, capable of producing delicately crafted objects of the finest quality.

During the First World War, the town of Bassano found itself placed it in a key position for many important battles. Thus it was that visiting soldiers would use Montegrappa pens for writing home. Some of these young men were to become famous journalists and authors; examples being Ernest Hemingway and John Dos Passos.

In the 1930s, the company blossomed, enjoying a golden era now appreciated for the elegance of the manufactured goods of the day - watches, cufflinks, fine automobiles and radios. With the fountain pen replacing traditional quill pens, the products of the house of Bassano met the taste of the public with sober yet elegant and graceful designs.

Ever at the forefront of innovation, Montegrappa was among the first to use modern materials such as celluloid and galalith. The company's skilled craftsmen were able to perfect the manufacturing process with original and precise technical solutions, which served as the platforms for the artistry of the pens' designers. As the decades passed, Montegrappa went on to produce numerous designs, many of them now highly collectable.

Montegrappa pens have traditionally been the favoured pen of the monarch, presidents, sportsmen and rock stars from around the world. Almost every world treaty is signed using a Montegrappa fountain pen.
Montegrappa at Wheelers Luxury Gifts
We're proud of our extensive collection of Montegrappa fountain pens, rollerball pens, mechanical pencils, ballpoint pens & limited editions. 
Montegrappa writing instruments are highly regarded around the world for their style and quality. Many of them are sophisticated with sleek, sober lines whilst others have a more 'fun', contemporary feel. The materials used include precious materials such as silver and gold, bringing a touch of sophistication and luxury to your writing.
Montegrappa's range of cufflinks and accessories beautifully complement the writing instruments. Many of the cufflinks, for example, reflect the designs of the pens.
Montegrappa Personalisation Service
For a truly personal gift for a loved one, we can personalise your Montegrappa writing instrument or jewellery. Not all Montegrappa products can be personalised so please contact our specialist team of in house engravers if you have any questions. 
For longer messages, we can engrave a plaque for the box. Montegrappa products are perfect corporate gifts. Whether it's a company milestone or retirement there's no better brand to use than Montegrappa. We can engrave your company's logo on a gold or silver plaque that will be attached to the products presentation box. Your chosen Montegrappa gift engraved with your company logo or personal message is the perfect way to say 'Well done!'  
Finish off your Montegrappa purchase by using our gift wrapping service. We offer free UK delivery on all items and free UK next day delivery on all orders over £100. 
Wheelers Luxury Gifts Shop
Mr Wheeler is dedicated to ordering a wide and high-quality range of Montegrappa products, but if by chance you happen to be looking for a particular Montegrappa item that we do not stock, please do not hesitate to get in contact and we will try our best to assist you. We pride ourselves on offering good, old-fashioned personal service and are always happy to help.
We are an official Montegrappa stockist in England. Visit our Wheelers Luxury Gifts store in Loughborough, Leicestershire, that features a huge array of writing instruments, jewellery and leather. We would love for you to come and see us, we are open 6 days a week, Monday to Friday 9 - 5:30 pm and Saturday 9:30 - 5 pm. You may call 01509 266320 or contact us by email - [email protected]