Royal Scot Crystal Home
See our selection of Tumblers, Wine Glasses & more.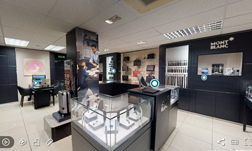 VIRTUAL TOUR
Take a 360° virtual tour around our Montblanc Boutique & Store.
Royal Scot Crystal
Royal Scot Crystal is Britain's largest stockist of luxurious hand-cut crystal products. Royal Scot Crystal is known for its skillfully made crystal products, tableware and giftware. Managing director Malcolm Sergent took over from his father 30+ years ago and has been involved in the luxurious crystal business ever since. 
Royal Scot Crystal has a huge selection of ranges and products in its catalogue. They carry collections that appeal to several generations. 
Royal Scot Crystal is a household name known worldwide. Intricately cut wine glasses are seen in palaces and the finest homes in the United Kingdom and North America.
Royal Scot Crystal & Wheelers Luxury Gifts
Here at Wheelers Luxury Gifts, we have an array of Royal Scot Crystal products. Ranging from decanters to tumblers to wine glasses to gin and tonic glasses. 
We carry some of Royal Scot Crystal's most loved hand-cut crystal collections including London and Edinburgh. As well as some of their more contemporary collections such as Art Deco and Belgravia. 
Every Royal Scot Crystal piece has either been made out of hand-cut or mouth-blown crystal. A Royal Scot Crystal gift is a great way to celebrate someone special.  
Royal Scot Crystal Personalisation Services
A number of our Royal Scot Crystal items have personalisation options. All Royal Scot Crystal gifts are packaged inside either a presentation box or a satin-lined gift box. Royal Scot Crystal purchases all have the option of engraving, plaque engraving and gift wrap. 
A vast selection of Royal Scot Crystal products can be engraved, if you see something on our website without engraving please don't hesitate to contact us. 
We are an Official Royal Scot Crystal Stockist in England. 
Visit our Wheelers Luxury Gifts store in Loughborough, Leicestershire, which features a huge array of writing instruments, jewellery, leather & more. We would love for you to come and see us, we are open 5 days a week, Monday to Friday 9 - 5:30 pm. You may call 01509 266320 or contact us by email - [email protected]