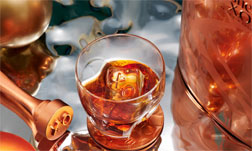 Hennessy Cognac
See our selection of Cognac & Gift Sets.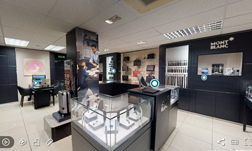 VIRTUAL TOUR
Take a 360° virtual tour around our Montblanc Boutique & Store.
Hennessy 
The Hennessy Cognac Story
It took some thirty years for the Hennessy Maison to make a real name for itself. Then in 1794 came a breakthrough; the first deliveries were made to the United States, which had gained independence just 18 years before.
The Prince of Wales, later King George IV of Great Britain, was a great connoisseur of cognac. He asked Hennessy to create a "very superior old pale cognac."
Since then the initials V.S.O.P - Very Superior Old Pale - have been used as a benchmark for the entire industry.
In 1818 Empress Maria Federovna of Russia asked Maison Hennessy to produce the most exceptional cognac as a birthday present for her son Czar Alexander I. Thus began a long relationship with the Russian royal dynasty.
In 1865 Maurice Hennessy, great-grandson of founder Richard Hennessy, decided to establish a cognac classification. He used varying numbers of stars to represent different degrees of quality. This gave rise to Hennessy's Three Star Cognac, today is known as V.S (Very Special). Before long this classification was adopted by the entire industry.
In 1870 Maurice Hennessy created the X.O (Extra Old) classification of Cognac. This was originally meant to be for family and friends only but is now regarded as a worldwide benchmark for cognacs.
The reputation of this wonderful cognac continued to grow and in 1947 Gerald de Geoffre de Chabrignac, Richard Hennessy's nephew, created the now distinctive X.O. flacon design.
Other landmarks include the development of a completely unique cognac that blends more than a hundred exceptional eaux-de-vie. This was known as Hennessy Paradis.
In 1996 Master Blender Yann Fillioux created Richard Hennessy, a cognac which comes as close to perfection as is possible. Made especially for true connoisseurs, this masterpiece cognac embodies 250 years of savoir-faire and history and is bottled in numbered, hand-blown crystal carafes.
How Hennessy Cognac is Made
At Hennessy, cognac is not 'manufactured'. Â Like a longed-for child, it is 'raised' with care, kindness and firmness.

The rearing of Hennessy Cognac begins with the vine; Ugni Blanc, the light fruity grape specifically suited to Hennessy Maison's double distillation. To guarantee the aromas will be both excellent and varied, the craftsmen of Hennessey choose only eaux-de-vie from the four great crus of the region (Grande Champagne, Petite Champagne, Borderies and Fins Bois).
The ageing comes next. This is a true test of patience, imagination and vision. This is a phase which can last beyond a lifetime. Hennessy only uses casks which have been hewn from oak trees over 100 years old, exclusively from French forests. These ancient casks stand in dim light - over 300,000 casks in all. They rest in the Hennessy cellars, one of the largest reserve of cognac eaux-de-vie in the world.

The Founder's Cellar is a symbol of the Hennessy heritage. Every single one of these eaux-de-vie has been aged for at least fifty years, with many being over a hundred years old. Once at the peak of its potential, the cognac is put into large wicker-encased glass demijohns, before being used to create the rarest cognacs. The very oldest eau-de-vie dates from 1800.
Hennessy at Wheelers Luxury Gifts
We stock a wonderful range of Hennessy Cognacs - from the 'entry level' Fine De Cognac, all the way through to the rare and inimitable Paradis Imperial Cognac.
*Licensing Act 2003 - It is an offence to purchase or attempt to purchase alcoholic liquor if you are under the age of 18.
Hennessy Personalisation Service
Here at Wheelers Luxury Gifts, we have professional in-house engravers who can tend to your personalisation needs. We have top of the range engraving equipment to engrave your Hennessy bottle. If your Hennessy product is presented inside a presentation box we can engrave a silver or gold plaque to be stuck on the presentation box's lid. 
Complete your Hennessy purchase by adding our £4 gift wrapping service. Have your choice of either silver or lavender wrapping paper and a handwritten gift tag. We also offer free UK delivery on all items and free UK next day delivery on all items over £100.
*Please note, we cannot ship Hennessy to destinations outside of Europe. 
There is no better way to celebrate your business' success or that of an employee than a corporate gift. It could be a promotion, a target exceeded or maybe your company has won a new contract or achieved a milestone. Having your chosen bottle of Hennessy Cognac engraved with your company logo or personal message is the perfect way to say 'Well done!'.
Wheelers Luxury Gifts Shop
Mr Wheeler is dedicated to ordering a wide and high-quality range of Hennessy products, but if by chance you happen to be looking for a particular Hennessy item that we do not stock, please do not hesitate to get in contact and we will try our best to assist you. We pride ourselves on offering good, old-fashioned personal service and are always happy to help.
We are an official Hennessy stockist in England. Our Wheelers Luxury Gifts store sits in Loughborough, Leicestershire, and features a huge array of writing instruments, jewellery and leather. We would love for you to come and visit, we are open 5 days a week, Monday to Friday 9 - 5:30 pm. You may call 01509 266320 or contact us by email [email protected]