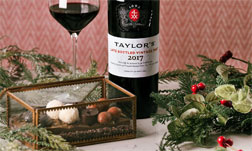 Taylor's Port
See our selection of Port & Gift Sets.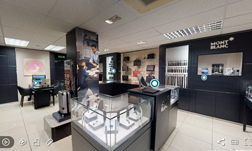 VIRTUAL TOUR
Take a 360° virtual tour around our Montblanc Boutique & Store.
Taylor's Port
"Ultimately, it comes down to the simple, glaring fact that one never tires of Taylor's." - Serena Sutcliffe, Sotheby's.
For many connoisseurs of fine port wine, Taylor's represents the pinnacle of the genre. Taylor's Port was founded well over three centuries ago, back in 1692.
After generations of development and refinement, Taylor's is now seen as the benchmark for Vintage Port. Remarkable for their poise and elegance and for their subtle strength and longevity, Taylor's Vintage Ports are blended from only the finest produce from the firm's own 'Quintas' or estates; these being Terra Feita, Junco and Vargellas. Each of these famous vineyards occupies a location with its own distinctive characteristics. They are the very foundation of the company's success.
Taylor's is held in the highest esteem as a producer of wood aged ports. The company maintains one of the largest reserves of rare cask-aged wines, from which its distinguished aged tawny Ports are drawn. Taylor's Port is also renowned as the originator of Late Bottled Vintage, a style of port which the firm pioneered and of which it remains the leading producer.
One of the most appealing aspects of Taylor's Port is that is still very much a family firm. It is wholly independent with several family members playing a significant role. This long and proud tradition has brought a valuable sense of continuity and clarity of purpose; essential attributes of all the great wine houses. This familial longevity has also enabled the knowledge and skills required in port production to be constantly refined. The experience of one generation is forever passed on to the next.
The company is based in Oporto and the Douro Valley. From the planting of the vineyard and the cultivation of the grapes to the making, ageing, blending and bottling of the wines, immaculate care and attention to detail are applied. The family's commitment to the future of Port is demonstrated in its single-minded dedication to the highest standards in Port production. Taylor's Port constantly invests in all aspects of the company's and are dedicated to preserving the unique environment of the Douro Valley through the maintenance and promotion of responsible and sustainable viticulture.
Taylor's Port at Wheelers Luxury Gifts
At Wheelers Luxury Gifts, we're proud of our wide range of Taylor's Port. Whether you're looking for a Fine Ruby or the unique 40 Year Old Aged Tawny or one of our Gift Sets, we have a Taylor's Port for every occasion. We offer a variety of bottle sizes and styles to ensure there is a perfect gift for every port lover.
*Licensing Act 2003 - It is an offence to purchase or attempt to purchase alcoholic liquor if you are under the age of 18.
Taylor's Port Personalisation Service
Why not have your chosen bottle of port engraved with a personal message to celebrate a special occasion? Our ten, twenty, thirty and forty-year-old bottles are perfect for celebrating birthdays and anniversaries and can be personalised with your own special message. Complete your purchase by adding on our £4 gift wrapping service at the end of your order. We have a choice of lavender or silver wrapping paper. 
We offer free UK delivery on all items and free UK next day delivery on orders over £100. *Please note, we cannot ship Taylor's Port to destinations outside of Europe.
Taylor's Port is the ideal corporate gift for a port loving employee. The bottles, and gift sets, of Taylor's Port, are perfect for celebrating retirement, long service and even promotions. We can engrave your company logo or personal message on to the chosen bottle of port to make it a truly memorable gift.
Wheelers Luxury Gifts Shop
Mr Wheeler is dedicated to ordering a wide and high-quality range of Taylor's Port products, but if by chance you happen to be looking for a particular Taylor's Port item that we do not stock, please do not hesitate to get in contact and we will try our best to assist you. We pride ourselves on offering good, old-fashioned personal service and are always happy to help.
We are an official Taylor's Port stockist in England. Our Wheelers Luxury Gifts store sits in Loughborough, Leicestershire, and features a huge array of writing instruments, jewellery and leather. We would love for you to come and visit, we are open 5 days a week, Monday to Friday 9 - 5:30 pm. You may call 01509 266320 or contact us by email [email protected]