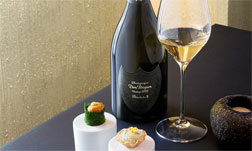 Dom Pérignon Champagne
See our selection of Champagne & Gift Sets.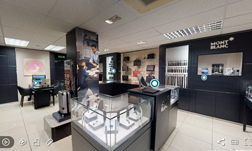 VIRTUAL TOUR
Take a 360° virtual tour around our Montblanc Boutique & Store.
Dom Pérignon
"... not just a champagne. Quite simply 'the best wine in the world'!" - Pierre Perignon 1694.
A History of Wine Perfection
In 1668 the young monk, Pierre Perignon, took up the position of cellarer and procurator of the Benedictine Abbey of Hautviller. Located on the northern slopes of the Marne in the heart of Champagne, the abbey was ideally suited for the production of fine wine. Under Pierre's watch, the vineyards of the abbey prospered. Such was the reputation of the quality of this wine that, before long, word reached the ear of the King himself at the court of Versailles.
The 47 years that Pierre Perignon spent at the abbey were dominated by his quest for perfecting the finest wines possible. He researched techniques both old and new and ultimately pioneered the 'method champenoise', which is still used to this day.
The Traditions Continue
Richard Geoffroy, since 1990 Dom Perignon's Chef de Cave, explains what the spirit of Dom Perignon means to him - "The legacy of the Abbey is beyond technical. It is first and foremost spiritual. As I work these grounds, I become one with this space, with no objective other than remaining true to the timeless essence of Dom Perignon."
Richard's role as Chef de Cave means that he is solely responsible for the decision to declare a Dom Perignon 'vintage'.
What Makes Dom Pérignon Unique?
'Couture in a glass' - the unique taste and sensation of a glass of Dom Perignon champagne wine results from much more than simply the sum of its parts.
Vintage is only ever created from the grapes of a single year's harvest, which then undergoes seven years of the ageing process. The grapes from seventeen of the very finest Pinot Noir and Chardonnay vineyards undergo an 'assemblage'.
Vintage is only declared if the Grand Cru grapes match the required irrevocably high standards.
Dom Perignon Personalisation Service
Here at Wheelers Luxury Gifts, we have professional in-house engravers who can tend to your personalisation needs. We have top of the range engraving equipment to engrave your Dom Perignon bottle. If your Hennessy product is presented inside a presentation box we can engrave a silver or gold plaque to be stuck on the presentation box's lid. 
Complete your Dom Perignon purchase by adding our £4 gift wrapping service. Have your choice of either silver or lavender wrapping paper and a handwritten gift tag. We also offer free UK delivery on all items and free UK next day delivery on all items over £100.
*Please note, we cannot ship Dom Perignon to destinations outside of Europe. 
There is no better way to celebrate your business' success or that of an employee than a corporate gift. It could be a promotion, a target exceeded or maybe your company has won a new contract or achieved a milestone. Having your chosen bottle of Dom Perignon engraved with your company logo or personal message is the perfect way to say 'Well done!'.
Wheelers Luxury Gifts Shop
Mr Wheeler is dedicated to ordering a wide and high-quality range of Dom Perignon products, but if by chance you happen to be looking for a particular Dom Perignon item that we do not stock, please do not hesitate to get in contact and we will try our best to assist you. We pride ourselves on offering good, old-fashioned personal service and are always happy to help.
We are an official Dom Perignon stockist in England. Our Wheelers Luxury Gifts store sits in Loughborough, Leicestershire, and features a huge array of writing instruments, jewellery and leather. We would love for you to come and visit, we are open 6 days a week, Monday to Friday 9 - 5:30 pm and Saturday 9:30 - 5 pm. You may call 01509 266320 or contact us by email [email protected]