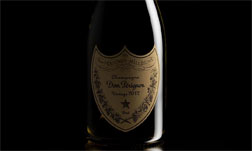 Dom Pérignon Champagne
See our selection of Champagne & Gift Sets.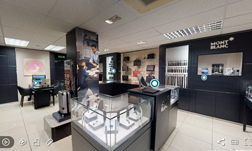 VIRTUAL TOUR
Take a 360° virtual tour around our Montblanc Boutique & Store.
Dom Pérignon
"... not just a champagne. Quite simply 'the best wine in the world'!" - Pierre Perignon 1694.
Dom Pérignon is synonymous with vintage champagne and prestige cuvées since the release of its first bottle in 1921.
'Couture in a glass' - the unique taste and sensation of a glass of Dom Perignon champagne wine results from much more than simply the sum of its parts.
Vintage is only ever created from the grapes of a single year's harvest, which then undergoes seven years of the ageing process. The grapes from seventeen of the very finest Pinot Noir and Chardonnay vineyards undergo an 'assemblage'.
Vintage is only declared if the Grand Cru grapes match the required irrevocably high standards.
Dom Pérignon & Wheelers Luxury Gifts
We have a wonderful selection of vintage champagne by Dom Pérignon. We carry the best-selling signature vintage brut champagne, as well as the rare vintage Rosé and a few luxurious gift sets.
All Dom Pérignon champagne is presented inside a luxurious gift box.
We are unable to ship Dom Pérignon outside of Europe.
Dom Pérignon Personalisation Services
Here at Wheelers Luxury Gifts, we have an expert team of in-house engravers that can tend to your personalisation needs. Whether your Dom Pérignon purchase is a birthday gift, wedding present or is a company gift we can help you.
We have a huge selection of personalisation fonts to choose from. Dom Pérignon champagne can be engraved on the bottle and box, we also offer a plaque engraving service for the champagne box. Complete your Dom Pérignon purchase by having the gift professionally gift wrapped.
If you have something specific in mind, please do not hesitate to contact us regarding your query.
We are an Official Dom Pérignon Stockist in England.

Visit our Wheelers Luxury Gifts store in Loughborough, Leicestershire, which features a huge array of beverages, homeware goods, leather goods & more. We would love for you to come and see us, we are open 5 days a week, Monday to Friday 9 - 5:30 pm. You may call 01509 266320 or contact us by email - [email protected]
*Licensing Act 2003 - It is an offence to purchase or attempt to purchase alcoholic liquor if you are under the age of 18