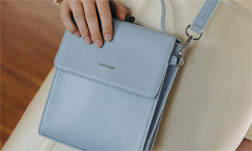 MATT & NAT Leather & Travel
See our Selection of Backpacks, Handbags, Wallets & more.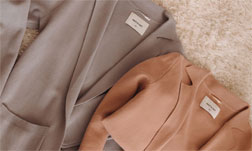 Matt & Nat Clothing
See our selection of Hats & Scarves.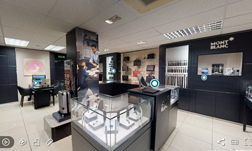 VIRTUAL TOUR
Take a 360° virtual tour around our Montblanc Boutique & Store.
Matt & Nat
The Matt & Nat journey began in 1995 in Montreal, Canada. Living by the motto 'Live Beautifully', Matt & Nat appreciate all things to do with the world. Matt & Nat's iconic name took inspiration from MAT(T)erial and NATure - exploring the synergy between the two, the reflection of one on the other. Matt & Nat has taken it upon themselves to create a new world where ethics and sustainability are the core values.
Since the beginning in 1995, Matt & Nat has been committed to not using leather or any other animal-based materials. When the seasons change, Matt & Nat follows by creating luxurious products that are perfect for everyday use. Matt & Nat is constantly finding new innovative ways to remain eco-friendly and sustainable. Most of the Matt & Nat products feature a vegan leather exterior with a 100% recycled nylon lined interior. Matt & Nat also use recycled materials such as cardboard, rubber and cork and more recently recycled bicycle tires.
Matt & Nat can now be found in over 800 boutiques across Canada, the United States, the UK, Japan, Germany and Australia. Matt & Nat encourages upcycling. If you haven't used it in the last six months, someone else can! If you're Matt & Nat bag has come to the end of its life it can be donated to the following organisation: dressforsuccess.org
Matt & Nat & Wheelers Luxury Gifts
When introducing Matt & Nat into Wheelers Luxury Gifts we wanted to get something in to suit each individual person. From luxurious handbags that can be used for nights out to everyday handbags. We have wallets, purses, card holders, travel accessories you name it there's something here for you. We carry a huge variety of colours to suit your style and mood. The majority of Matt & Nat products are presented inside a black dust bag that has been crafted from recycled materials.
Mr Wheeler is dedicated to ordering a wide and high-quality range of Matt & Nat products, but if by chance you happen to be looking for a particular Matt & Nat item that we do not stock, please do not hesitate to get in contact and we will try our best to assist you. We pride ourselves on offering good, old-fashioned personal service and are always happy to help.
Matt & Nat Personalisation Services
Here at Wheelers Luxury Gifts, we can personalise a few Matt & Nat products listed on our website. Our in-house engraver can emboss vegan leather goods such as wallets and purses. Use our personalisation services to help you create the perfect, luxury gift.
Matt & Nat is the perfect brand if you're looking for high-quality, luxury products that you can also give as gifts and here at Wheelers Luxury Gifts we like to help you make them that little bit more special. On top of being able to emboss some Matt & Nat products, we also offer a gift wrapping service. For £4, we can gift wrap any Matt & Nat item in either lavender or silver.
We are an Official Matt & Nat Stockist in England. Visit our Wheelers Luxury Gifts store in Loughborough, Leicestershire, that features a huge array of writing instruments, jewellery and leather. We would love for you to come and see us, we are open 5 days a week, Monday to Friday 9 - 5:30 pm. You may call 01509 266320 or contact us by email - [email protected]