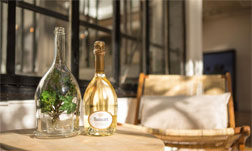 Ruinart Champagne
See our selection of Champagne.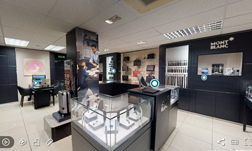 VIRTUAL TOUR
Take a 360° virtual tour around our Montblanc Boutique & Store.
Ruinart
Both the oldest and first established Champagne House, Ruinart was founded in 1729 by Nicolas Ruinart in Reims. This followed an edict of Louis XV, which declared that the ban on transporting wine in bottles would be lifted. Prior to this date, wine could only be distributed in barrels, making distribution nigh impossible. The consumption of wine was therefore confined to the area of production.
Harvested from the Côte des Blancs and Montagne de Reims terroirs, the Chardonnay grape is the golden thread running through the very core of the Ruinart soul. With its fresh aromas, purity, vivacity and luminosity, the Chardonnay is the quintessential essence of all Ruinart Cuvèes. The benefits of the Chardonnay grape are also at the root of its main drawback. For, the Chardonnay grape is fragile; excessive and untimely rain; winds too strong; temperatures too cold or warm; all these can adversely affect the vineyard.
Cool, slow maturation in the Crayères (the chalk cellars) allows for the full breadth of the fragile, delicacy of the Chardonnay's aromatic richness. The non-vintage wines are aged for up to 3 years, while the Dom Ruinart requires 9-10 years.
This slow, careful maturation provides the ultimate test of Ruinart's Cellar Master's skill. The requirement to tame the capriciousness of this enchanting grape unlike any other.

Brightness, intensity and elegance: in the combination of these unique traits reside the miracle that is called the "Ruinart Taste": an exclusive personality, truly in a class of its own.
Ruinart and the Arts
Ruinart has enjoyed a long-standing relationship with the Arts. Back in 1895, Andre Ruinart asked Czech artist Alphonse Mucha to design a poster for his champagne. To this day the brand is still closely involved with Contemporary Art and plays a role in numerous international events such as ARCO, the Foire de Bale, the Carre Rive Gauche, London Design, and Miami Art Basel.
Ruinart At Wheelers Luxury Gifts
At Wheelers Luxury Gifts we carry an extensive range of Ruinart champagnes - Brut, Blanc de Blanc and Rose, all in a variety of bottle sizes. 
*Licensing Act 2003 - It is an offence to purchase or attempt to purchase alcoholic liquor if you are under the age of 18.
Ruinart Personalisation Service
Here at Wheelers Luxury Gifts, we have professional in-house engravers who can tend to your personalisation needs. We have top of the range engraving equipment to engrave your Ruinart bottle. 
Complete your Ruinart purchase by adding our £4 gift wrapping service. Have your choice of either silver or lavender wrapping paper and a handwritten gift tag. We also offer free UK delivery on all items and free UK next day delivery on all items over £100.
*Please note, we cannot ship Ruinart to destinations outside of Europe. 
There is no better way to celebrate your business' success or that of an employee than a corporate gift. It could be a promotion, a target exceeded or maybe your company has won a new contract or achieved a milestone. Having your chosen bottle of Ruinart engraved with your company logo or personal message is the perfect way to say 'Well done!'.
Wheelers Luxury Gifts Shop
Mr Wheeler is dedicated to ordering a wide and high-quality range of Ruinart products, but if by chance you happen to be looking for a particular Ruinart item that we do not stock, please do not hesitate to get in contact and we will try our best to assist you. We pride ourselves on offering good, old-fashioned personal service and are always happy to help.
We are an official Ruinart stockist in England. Our Wheelers Luxury Gifts store sits in Loughborough, Leicestershire, and features a huge array of writing instruments, jewellery and leather. We would love for you to come and visit, we are open 6 days a week, Monday to Friday 9 - 5:30 pm and Saturday 9:30 - 5 pm. You may call 01509 266320 or contact us by email [email protected]