Discover the timeless beauty of Montblanc Writing Instruments, Jewellery, Leather goods, Watches, and Fragrance.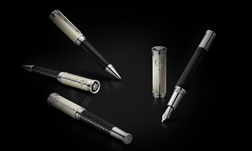 MONTBLANC WRITING INSTRUMENTS
See our selection of Ballpoint, Fountain, Rollerball Pens & more.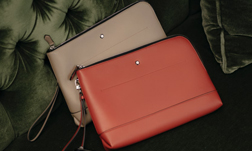 MONTBLANC LEATHER & TRAVEL
See our selection of Bags, Luggage, Belts, Wallets & more.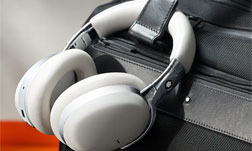 MONTBLANC ACCESSORIES
See our selection of Keyrings, Money Clips & more.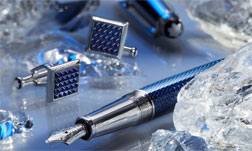 MONTBLANC JEWELLERY
See our selection of Cufflinks, Necklaces & more.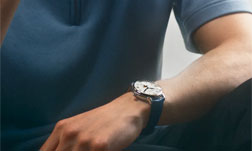 Montblanc Watches
See our selection of Watches, Smartwatches & more.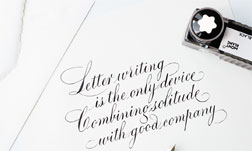 MONTBLANC STATIONERY & REFILLS
See our selection of Notebooks, Pen Refills & more.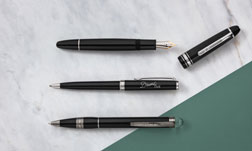 Montblanc Corporate Gifting
The PIX Collection, affordable pens for Corporate Gifting.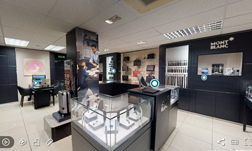 VIRTUAL TOUR
Take a 360° virtual tour around our Montblanc Boutique & Store.
Montblanc
The creation of Montblanc began in 1906 with a Hamburg banker, Alfred Nehemias, and a Berlin engineer who realised that it was time to design simplicissimus pens. It wasn't long until Wilhelm Dziambor, Christian Lausen and Claus Johannes Voss carried on the business, preparing the foundation that would be the internationally successful business 'Montblanc'. In 1910 Montblanc was registered as a trademark featuring the evolutionary fountain pen, but it wasn't until 1913 that the star was born (the famous Montblanc emblem). The white star representing the snow white peak of the highest European mountain, would now be presented on the top of every pen that the 'Simplo Filler Pen Co' would make. (The partners business name before Montblanc, created in 1908.) The Montblanc star represents the brand's commitment to the highest quality and most talented craftsmanship. The staple Meisterstück fountain pen was created in 1924. The iconic fountain pen was perfectly handmade.
Montblanc & Wheelers Luxury Gifts
Wheelers Luxury Gifts is the largest independent Montblanc retailer in the UK. Our Montblanc Boutique sits in our Wheelers Luxury Gifts store in Loughborough, Leicestershire, view our virtual tour.
We carry a wide range of Montblanc writing instruments including ballpoint pens, fountain pens, fineliner/rollerball pens and mechanical pencils. Featured are the various collections including Montblanc Meisterstück pens; StarWalker pens; Great Characters pens; Etoile pens, and the PIX pen collections. There are limited and special editions featuring John F. Kennedy, Joannes Brahms, Andy Warhol and AW80D. We have an extensive range of refills featuring: Montblanc pen refills, fountain pen refills, rollerball pen refills, ballpoint pen refills, fineliner pen refills and pencil refills with free UK delivery.
We stock a large assortment of Montblanc leather for ladies and gentlemen featuring, belts, bags (briefcases; laptop bags; messenger bags; travel bags, backpacks); luggage; wallets; travel accessories; purses; phone and tablet cases, from the following collections Meisterstück, NightFlight, #MY4810 and Extreme 3.0 to name a few.
Our Montblanc jewellery collections for ladies and gentlemen feature cufflinks, tie clips, necklaces, bracelets, earrings, watches, keyrings and money clips, featuring collections such as Summit 2, Souvenir d'Etoile, and Meisterstück.
If by chance you happen to be looking for a particular Montblanc item that we do not stock, please do not hesitate to get in contact and we will try our best to assist you. We pride ourselves on offering good, old-fashioned personal service and are always happy to help.
Montblanc Personalisation Services
We have in house designers and engravers who will be able to personalise your chosen Montblanc item with an inscription. There is nothing more personal than a gift that has been personalised. Whether the inscription is on the cap of a writing instrument, the back of a pair of cufflinks or on the front of a leather messenger bag. We can usually engrave your chosen item within 24 hours and have it sent out to you for UK next working day delivery*. We can gift wrap your chosen gift in luxury gift wrapping with a tag for free*, to make your gift extra special to complete the presentation.
*If the item is in stock, and you have ordered before 3pm, we can ship out to you free next working day delivery in the UK. This does not apply to weekend purchases.
*Free gift wrap does not apply to Montblanc stationery & refills. 
Montblanc & Corporate Gifting
Montblanc is a world leader in luxury fashion and is the perfect choice for corporate gifts. Whether it be retirement, long term service or company awards. There isn't a better brand which will produce higher quality craftsmanship. This makes Montblanc an ideal choice for hard-working employees.
We have a vast array of products and can provide large quantities for corporate clients. With our in house designer and engraving team, we can engrave bespoke text and your company logo on to your chosen product*
*Provided the chosen product can be engraved upon.
We are an Official Montblanc Stockist in England.
Visit our Wheelers Luxury Gifts store in Loughborough, Leicestershire, that features a huge array of writing instruments, jewellery and leather. We would love for you to come and see us, we are open 5 days a week, Monday to Friday 9 am - 5:30 pm. You may call 01509 266320 or contact us by email - [email protected]