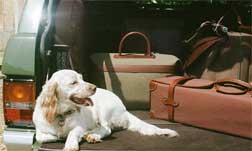 Purdey LEATHER & TRAVEL
See our selection of Bags, Wallets & more.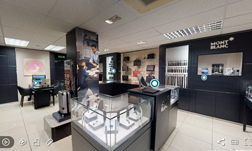 VIRTUAL TOUR
Take a 360° virtual tour around our Montblanc Boutique & Store.
James Purdey & Sons
Purdey London is a company manufacturing leather accessories, shooting equipment and high-end animal accessories since 1814 and was founded by James Purdey. The company changed addresses a few times but now it stands on 57 South Audley Street in London and has done since 1882. Over the years the company has also had different owners, now owned by the Richemont Group with Richard Purdey as chairman of the company and in 2014 Purdey celebrated 200 years in business.
Purdey & Wheelers Luxury Gifts
We at Wheelers Luxury Gifts are extremely excited to announce we will be stocking a wide variety of luxury gifts. From Purdey cigar accessories to leather goods to men's jewellery there's definitely a Purdey present here. We have a large collection of Purdey accessories and home accessories also.
Our Purdey collection is continuously growing. 
Mr Wheeler is dedicated to ordering a wide and high-quality range of Purdey products, but if by chance you happen to be looking for a particular Purdey item that we do not stock, please do not hesitate to get in contact and we will try our best to assist you. We pride ourselves on offering good, old-fashioned personal service and are always happy to help.
James Purdey & Sons Personalisation Service
Here at Wheelers Luxury Gifts, we can personalise a few Purdey products listed on our website. Our in-house engraver can emboss leather goods such as wallets and purses and engrave cufflinks, and keyrings. Use our personalisation services to help you create the perfect, luxury gift.
Purdey is the perfect brand if you're looking for high-quality, luxury products that you can also give as gifts and here at Wheelers Luxury Gifts we like to help you make them that little bit more special. On top of being able to engrave on some Purdey products, we can also engrave silver and gold plaques to place on the gift boxes, and we also offer a gift wrapping service. For £4, we can gift wrap any Purdey item in either lavender or silver.
We are an official Purdey stockist in England. Our Wheelers Luxury Gifts store sits in Loughborough, Leicestershire, and features a huge array of writing instruments, jewellery and leather. We would love for you to come and visit, we are open 5 days a week, Monday to Friday 9 - 5:30 pm. You may call 01509 266320 or contact us by email [email protected]