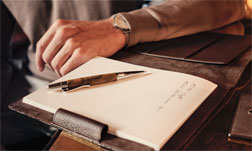 Graf von Faber-Castell Writing Instruments
See our selection of Ballpoint, Fountain, Rollerball Pens & more.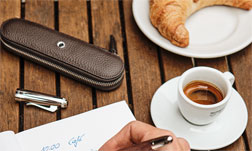 Graf von Faber Castell Stationery & Refills
See our selection of Pen Refills & more.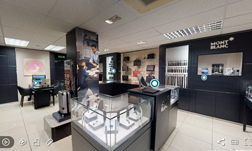 VIRTUAL TOUR
Take a 360° virtual tour around our Montblanc Boutique & Store.
Graf von Faber-Castell
Graf Von Faber Castell - This wonderful company was established near Nuemberg back in 1761. The founder was a cabinet maker, Kasper Faber. Today, eight generations later, the company still remains under family control. From the mid-19th century, it evolved into a world-renowned manufacturer of wood-cased pencils, both in graphite and colour. Under the owner, Baron Lothar von Faber, it soon became recognised as the producer of the first ever 'branded' lead pencil.
The Faber-Castell company takes its full name from Ottilie von Faber's 1898 marriage to Count Alexander zu Castell-Rüdenhausen, who came from one of the oldest noble families in Germany.
Since those early days, this prestigious brand has developed its expertise across the entire spectrum of writing instruments - fountain pens, ballpoint pens, rollerball pens and mechanical pencils.
Graf Von Faber-Castell has always cherished the importance of craftsmanship in the production of their writing instruments. However, successive generations have never lost sight of the importance of innovation and, when appropriate, have used the latest technology to further refine and perfect the manufacturing process of their writing instruments. 
The Collection
Graf von Faber-Castell offers an extensive array of fountain pens, propelling pencils, ballpoint and rollerball pens. The fountain pens typically use a cartridge/converter filling system, allowing the pen to be filled with ink from either an ink bottle or from hassle-free cartridges.
Casings
The fountain pens come in a variety of finishes, such as lacquered metal and wood. In the Classic Collection, slow growth hardwoods are used, such as Ebony, Pernambuco and Granadilla. The instruments in the Intuition Collection are made from glossy black resin. The Guilloche Collection is manufactured from craved dyed resin in coral, indigo, Sahara, and black, as well as several kinds of wood.
Nibs
Fountain pen nibs are either made from polished stainless steel or 18K gold. In each case, they are capped with a hard-wearing iridium metal tip.
Accessories
Complementing the writing instruments are a magnificent collection of desk and 'pocket accessories' - leather notepad holders, organisers, pen cases, wallets and card holders to name just a few.
Pen of the Year
Every year since 2003, Graf von Faber-Castell has produced a line of limited edition fountain pens, named the "Pen of the Year". With their matchless craftsmanship and limited production, these pens are regarded as among the world's most prized writing instruments. Each "Pen of the Year" has a nib crafted from 18-karat bicolour gold with a barrel made from a variety of exotic materials.
Graf von Faber-Castell Personalisation Service
Here at Wheelers Luxury Gifts, we love to make your gift 'special'. With most Graf von Faber-Castell items, we can personalise it with a name, date or initials to create a truly memorable gift. For longer messages, we'll attach a personalised plaque to the item's presentation box. The plaque can either be in gold or silver to match the trims of your chosen writing instrument. 

We also offer a luxury gift wrapping service to add a beautiful finishing flourish to your gift. Choose from lavender and silver gift wrapping paper and it will be finished off with a handwritten tag. We offer UK and worldwide delivery. 
Does your company have a success to celebrate? Are you celebrating a company target exceeded? Has an employee earned a promotion? Have you won a new contract or are you entertaining a VIP guest? Whatever the reason for the celebration, Graf Von Faber-Castell will provide the perfect gift solution.
Wheelers Luxury Gifts Shop
Mr Wheeler is dedicated to ordering a wide and high-quality range of Graf von Faber-Castell products, but if by chance you happen to be looking for a particular Graf von Faber-Castell item that we do not stock, please do not hesitate to get in contact and we will try our best to assist you. We pride ourselves on offering good, old-fashioned personal service and are always happy to help.
We are an official Graf von Faber-Castell stockist in England. Visit our Wheelers Luxury Gifts store in Loughborough, Leicestershire, that features a huge array of writing instruments, jewellery and leather. We would love for you to come and see us, we are open 6 days a week, Monday to Friday 9 - 5:30 pm and Saturday 9:30 - 5 pm. You may call 01509 266320 or contact us by email - [email protected]