Reviews & Testimonials
Customer Reviews at eKomi and Trust Pilot

Read our customer reviews at eKomi 'The Review Company'.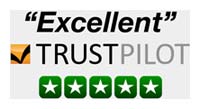 Read our customer reviews at Trust Pilot.
Please take a look at the review sites above to find our latest customer reviews and testimonials.
Customer Testimonials
Thank's for your excellent service and prompt delivery. A shining light in a retail word of mediocrity and indifference.
Philip Revington, May 2015
Wow, what great customer service. Keep up the good work.
Richard Aldridge, May 2015
The pen has just arrived and is beautiful. It is going to be a much loved gift.Thanks for the great experience overall, and the complimentary ink cartridges. I will definitely be back!
Simon Henny, May 2015
I received the cufflinks, they are amazing and I could not be happier.
Thank you for all of your assistance.
Heidi Hamric, April 2015
Just to let you know that the Ralph Lauren belt arrived safely. Once again, we are thrilled with our purchase and would like to say thank you for all of your help and kindness with this purchase. We look forward to future purchases from Wheelers. Thank you again.
Mr & Mrs Booth, April 2015
I just had to let you know that we received the Hugo Boss Weekend Bag today, and that we are absolutely thrilled with it. It is completely perfect and unmarked. We want to thank you also for your kindness and patience when I rang to place the order. The service we have received from you has been first class.
Mr & Mrs Booth, April 2015
I just wanted to say thanks for all your help with selecting and placing the order for the engraved cufflinks.
They arrived on time and they made a lovely wedding gift for my new husband.
Tharshika Rasalingam, April 2015
Received my pen yesterday. Extremely impressed both with the product and your service. Many thanks for your time and care in this matter.
John Rae, April 2015
A huge thank you for the first class service I have received from Wheelers. I am thrilled with my Mulberry purse which arrived today. It was well packaged and in perfect condition.
Maureen Hopewell, March 2015
Thank you very much again…Its refreshing to deal with a great company and nice people,
Antony Jones, March 2015
I've just received my order and everything is great. Really pleased with your service and fast delivery.
Ashley Brent, February 2015
Wheelers have a fantastic website with a fabulous variety of quality gifts and items - they run a very efficient operation ensuring orders are received immediately using high profile courier companies. They also have a beautiful store in which they provide a service second to none! I have been thrilled with my purchases and would definitely recommend their services.
Sophie Usmar, December 2014
Just a quick line to let you know that I have received the pen, duly engraved and I am very happy with both the quality and service that has been provided.
Sharon Morris, October 2014
My parcel has just been delivered. A big thank you for the excellent service you have all given to me since contacting you yesterday. The pen and engraving is first class, ideal for the occasion. I will certainly be using your company in the future.
Carolyn Tong, September 2014
Was a rare pleasure to receive such good service. The two young ladies I spoke to were a credit to your organisation. Great old school service which is sadly so often lacking in even the best establishments nowadays. For me, customer service is the arena where my business is won or lost, and you now have a life long customer. America still has it, and this was on a par with the best I have experienced abroad. Honest to a fault as well, you turned down the opportunity of selling a higher value item to ensure I got the right product for me.
Chris Nathaniel, May 2014
I received the Hugo Boss key ring today and I want you to know that I am thrilled with the engraving.
Caroline Round, March 2014
Just to say that I have received my order today and it is beautiful!!!
I have just received the Laurent Perrier and I am so happy with it. Thank you very much.
Adelle Sorensen, March 2014
Just received the Hugo Boss cufflinks, they are fabulous and the engraving is brilliant.

Thank you very much for you excellent and quick service

Cath Holmes, February 2014
I would like to thank you for your service and speed with which you dealt with my order, your attention was wonderful, having tried to place the same order with a competitor which was a disaster. I shall use your service/ company again.

Christine Todd, February 2014
I'm ever grateful for your help with my Mont Blanc order and also very pleased to report that Royal Mail actually delivered it yesterday. My husband signed for it but luckily didn't question what it was when he handed it to me ...phew! Thank you for the gift wrapping and card - looks just right and ready for opening on his birthday on Wednesday. Excellent service and I'm very happy to recommend and use your gift service again.

Ann Cronshaw, January 2014
I would like to express my warm hearted thanks to Jemma for the understanding and effort she has made to ensure I received the Mont Blanc Bracelet today. I am writing this due to what has happened since I placed an order and the effort Jemma has made to eradicate my frustration and disappointment with Mont Blanc to take 7days to furnish Wheelers with my order. The understanding and effort made would certainly encourage me to recommend Wheelers to my friends and relatives. Many thanks and please keep up the good work.

I would like to thank you for your excellent service. My pre-Christmas order arrived within a couple of days, which was very impressive considering there were no guarantees when we spoke over the phone. The Montblanc product was also very securely packaged. This is the second time I have used Wheeler's Luxury Gifts and my expectations have been surpassed.
Davinder Singh Bains, January 2014
Parcel just arrived and I am absolutely delighted. It is beautiful. Thank you sooooooo much again. Congratulations and high praise to your company for the excellent ware, speedy delivery and the up to date correspondence. Top Marks.

Just a note to say thank you for the superb friendly and efficient service. The wallet arrived today. Thank you. I will look at your site first in future.

Carole Dunnett, December 2013
I've just received my order of two Thomas Sabo charms and bracelet and am delighted! Your service was excellent and the fact that you allowed me to have the large bracelet as opposed to the small at no extra cost was so kind. As an adult student I have limited funds (as most of us do these days) so to find your website was a gift in itself. The pearl charm and bracelet are a 30th birthday gift for my best friend - I can't wait to see her face when she opens it! Thanks again ...and have a wonderful Christmas too!

Alix Sharp, December 2013
I just want to let you know some feedback on the item I received for my partners birthday, I want to thank you for how helpful you have been, Thank you for the fast delivery. And the parcel has been delivered today and is lovely. I will definitely recommend you to friends and family, and I will definitely be ordering another one from you at the end of December. Thank you.

Thank you so much for your brilliant service - from the phone call to checking the items I had ordered, to the safe delivery of the items this morning.

Wow you are so efficient. I love this type of Customer service. Thanks so much.

Najeeb Khan, November 2013
Hi Pauline, My friend received the gift and it was perfect. It was beautifully wrapped and the wallet was exactly how I wanted it to be. I would really like to thank you and Jemma for the very prompt service and assistance that you'll have provided throughout, even when the gift wasn't traceable in between. I have had a wonderful experience with Wheelers and I'm sure I will use your service again very soon. Thanks & Regards,

Kshera Rai, November 2013
I just wanted to email to say how pleased I was with the order I placed over the weekend. The customer service was really excellent. Someone called me on Monday to discuss the engraving, and the package was with me today. Really pleased with the engraving, and also how neatly the item had been placed back in the box. Really impressed. Will definitely use your company again. Many thanks for being so great!

Ordered yesterday, delivered today! Thank you very much for your perfect service.