Tis' the season to be jolly, yes, it's only October but no time like the present. Hampers are a great way to show your appreciation for your dedicated employees or suppliers. We have a huge variety of hampers for all types of people. We've cherry-picked a few seasonal hampers we think would be a perfect choice as a corporate gift.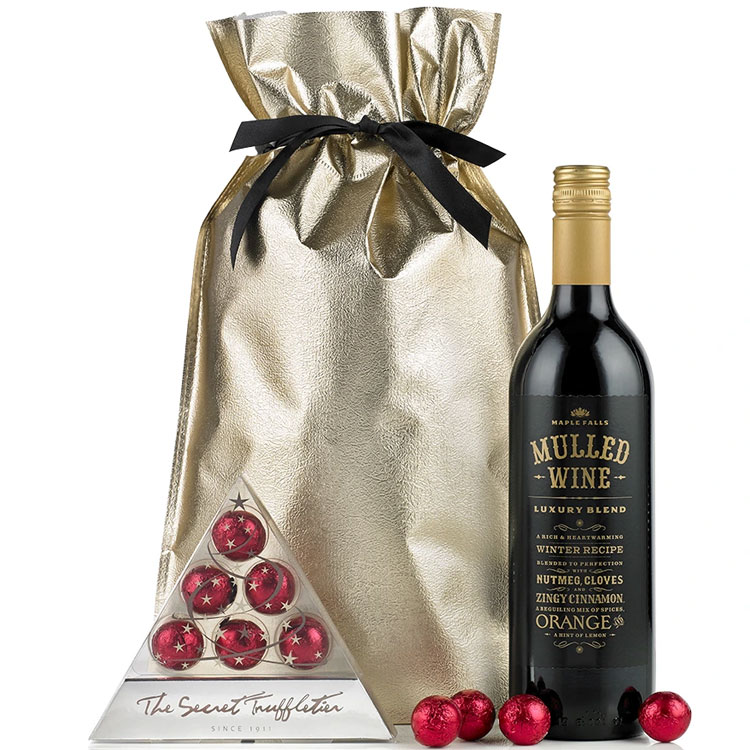 Mulled Wine & Chocolates - £21.50
The Mulled Wine and Chocolate gift bag is a fan favourite this year. What better combination than a full bottle of aromatic chocolate drop mulled wine and a superb pyramid of hand-made truffles. This gift can be enjoyed on a cosy night.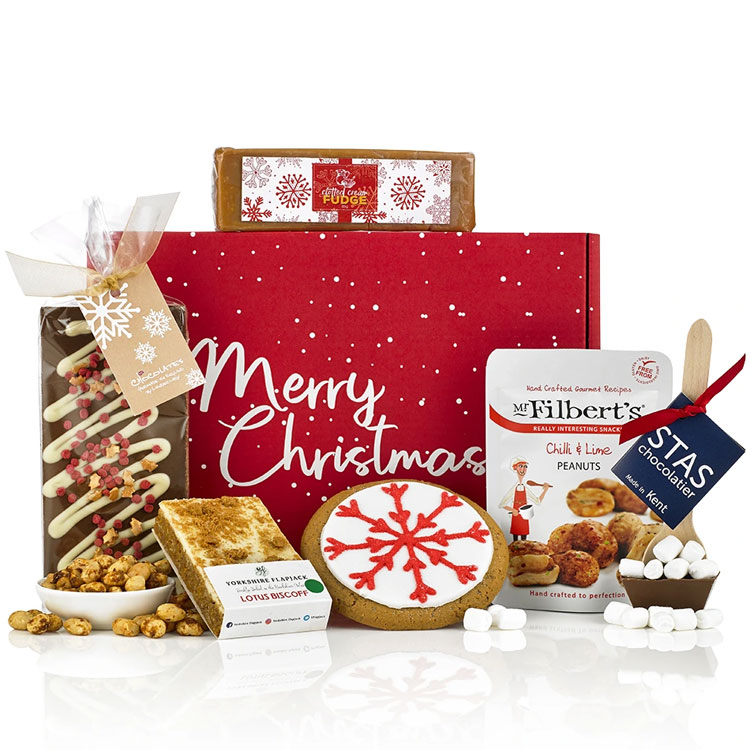 Christmas Letterbox Gift - £22.50
Letterbox gifts are such a great little gift to say thanks with. It does what it says on the tin, it fits right through your recipient's letterbox, meaning they don't have to be in to receive it! This Christmas themed letterbox gift is an alcohol-free treat filled with festive favourites such as Biscoff flapjack to chilli and lime peanuts. The Christmas Letterbox Gift is always a popular choice, the treats inside are ideal for all ages.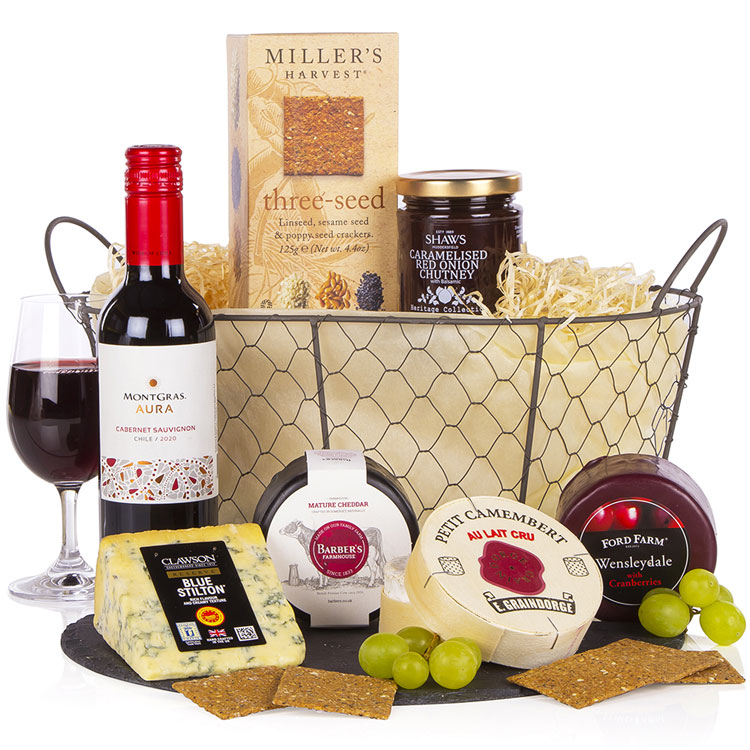 Cheese & Wine Basket - £41.50
(Order now for delivery from 9th December. Order now and receive it in time for Christmas. Delivery is only available from Tuesday to Saturday as we cannot guarantee our satisfaction gifts will remain cold whilst in transit over a weekend. The hamper will be delivered directly from the supplier).
No Christmas is complete without a selection of cheeses. Wonderfully presented inside a black wire basket, this selection will keep your recipients stocked over the festive period. Inside the wire basket, you'll discover 4 types of cheese including cheddar, Wensleydale & cranberry, petit camembert and blue stilton. As well as a mini bottle of red wine, chutney and 3 seed crackers.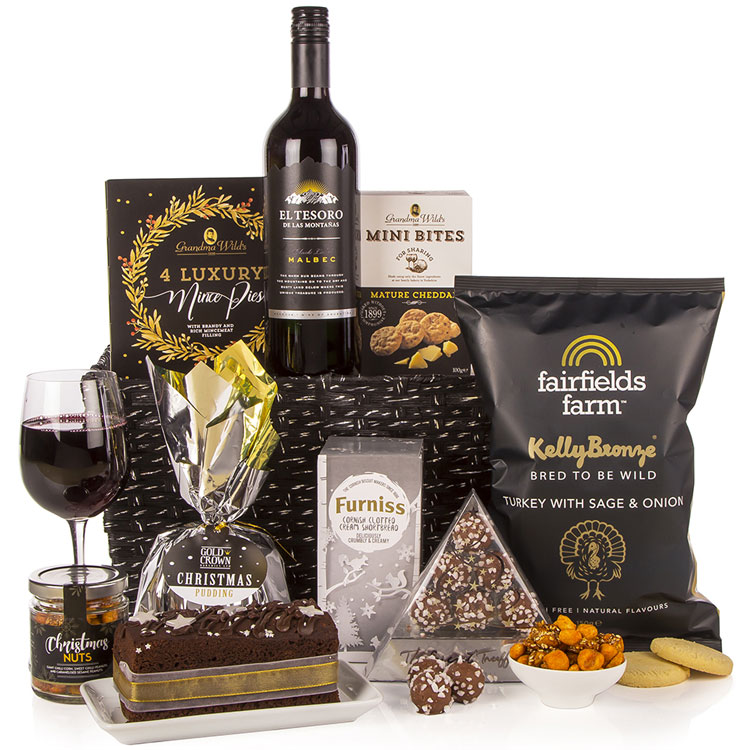 Starry Starry Night Basket - £50
The Starry Starry Night Basket is 'quintessential Christmas'. Wonderfully presented inside a black and silver storage basket, this festive hamper is filled with treats for all of the recipient's families to enjoy. The Starry Starry Night Basket includes sweet and savoury snacks such as Christmas Nuts, Cornish Clotted Cream Shortbread, Christmas Pudding, Luxury Mince and more!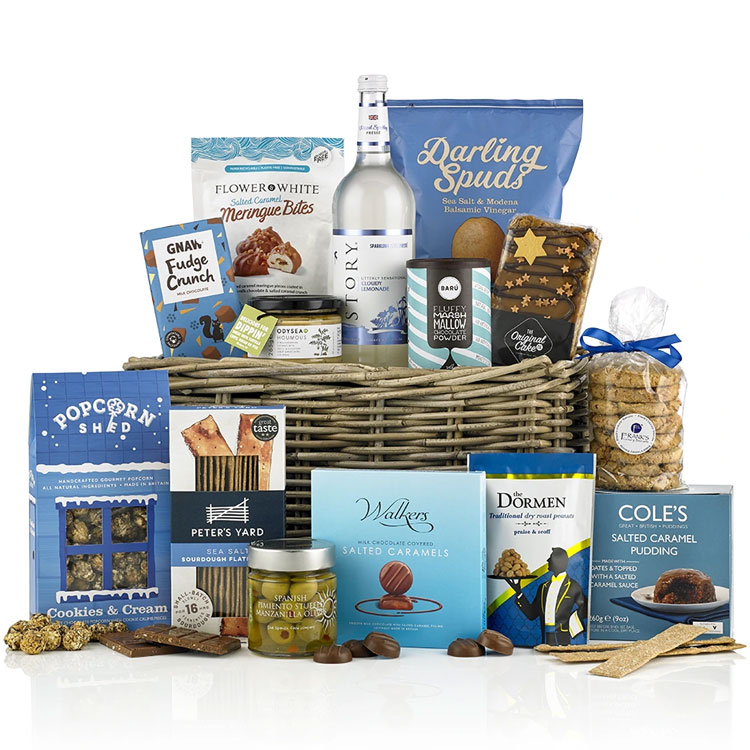 Alcohol-Free Feast - £77
Our Alcohol-Free Feast is a perfect choice for all ages. Filled to the brim with delicious snacks, our Alcohol-Free Feast is presented inside a fashionable Kubu storage basket. This mouth-watering hamper is a perfect gift to give to your recipients at any Christmas party. Striking the perfect balance between sweet and savoury, there is plenty to go around and enough variety for all to enjoy!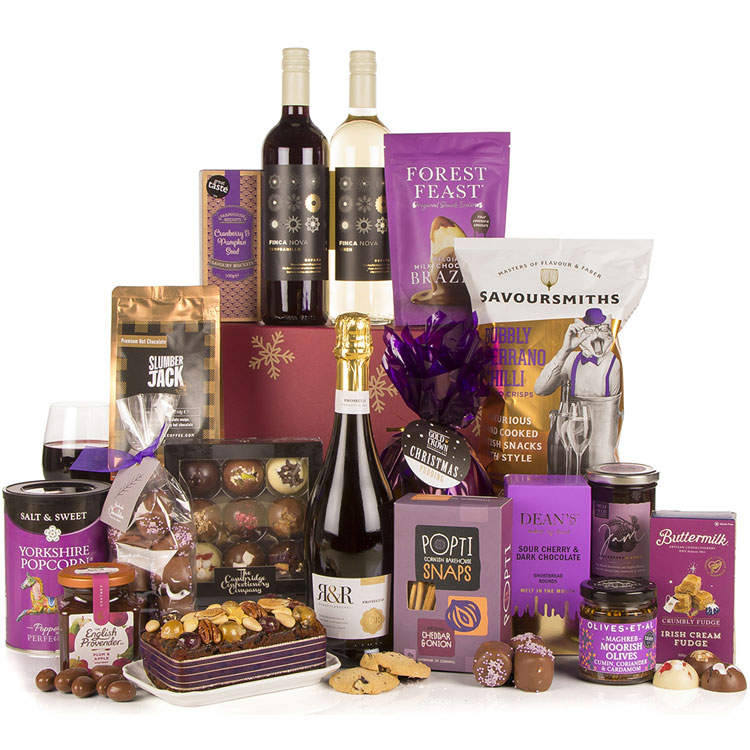 A Touch of Class Carton - £107
The show-stopping Touch of Class Carton is one of the most delightful seasonal hampers we have. Bursting with deluxe food, wine and prosecco, this hamper will be an unforgettable gift. This hamper will be the perfect corporate choice. Tucked into this apple catcher storage basket is a stunning choice of food and drinks that will get every Christmas celebration off to a great start!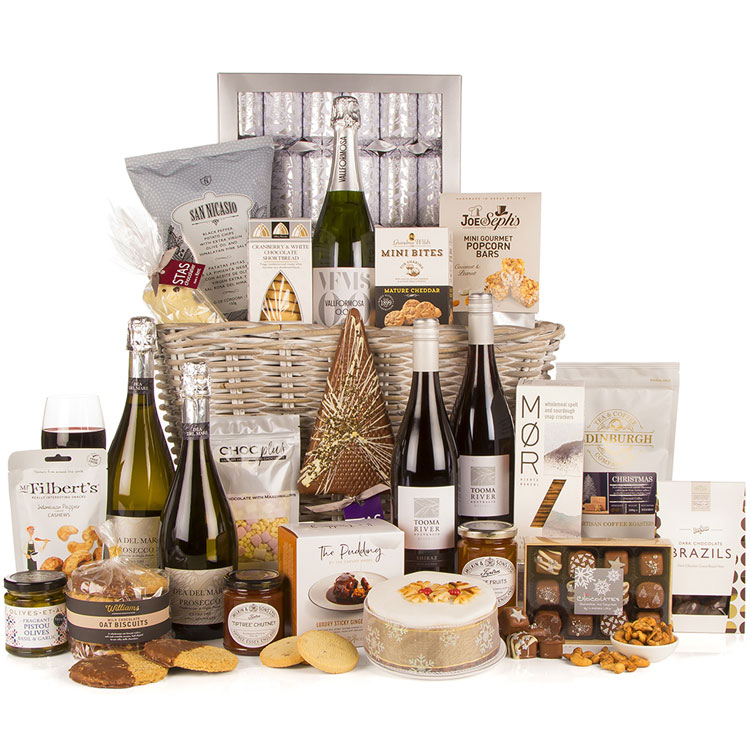 Twelfth Night Basket - £208
This traditional hamper really has the WOW factor. Our Twelfth Night Basket will definitely make its mark this Christmas. This fabulous festive treat has everything you need to really make your Christmas Eve. This luxurious hamper has been packed with sweet and savoury treats. Whether you are sending your best wishes to loyal clients or saying thank you to hard-working employees, the Twelfth Night Christmas hamper will be very gratefully received and will leave a lasting impression.
HAMPERS
Whether you are looking to brighten a loved ones Christmas, or surprise valued employees or clients, why not view our range of Christmas Hampers and find their perfect hamper.
Delivery prices have been included with all of our luxury hampers. All of our luxury hampers are delivered directly from the supplier. Please allow 3-5 business days for delivery. If you would like delivery in time for Christmas the latest we can accept orders is on the 21st December @ 12noon.